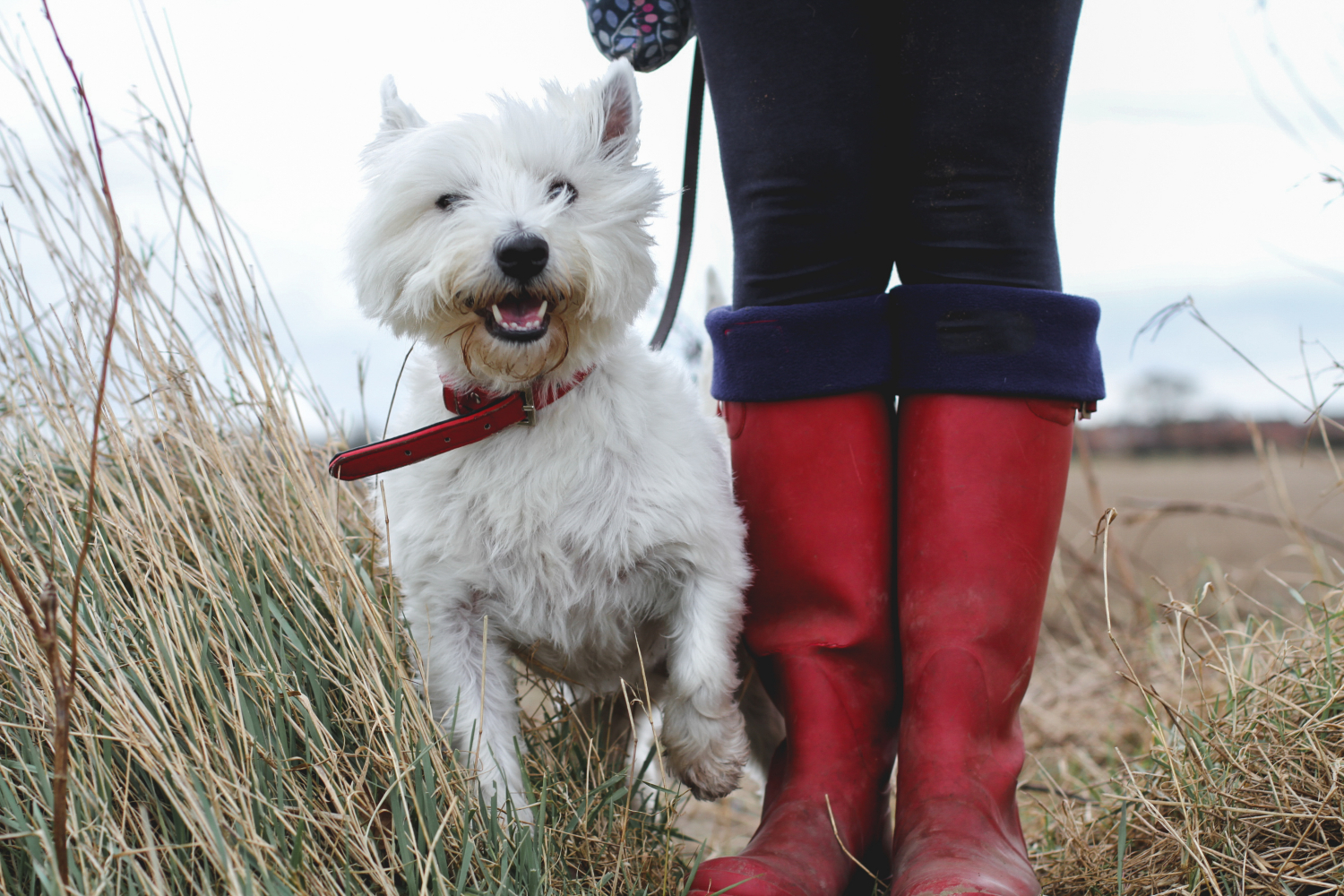 Best dog walking accessories
Looking to kit yourself out with the latest and greatest in dog walking accessories? Find out what essentials you need to make walks with your older dog more enjoyable - for both of you!
Does your senior dog get all excited every time they hear the jingle of their lead? To them, that only means one thing – "walkies!"
Perhaps every canine's favourite word, this activity is perfect for spending quality time with your ageing pet and making sure they get the exercise they need in later life. Did you know that active hounds may be less likely to get dementia? So, it's best to keep them on the move.
Having the right equipment when you head out the door means you're prepared for anything – your dog getting injured, having to wade through mud or staying out later than expected. You name it, our ultimate list has you covered!
We'll also share some dog walking tips to help make it easier on your old pet and why senior dog insurance is a must to protect your golden oldie when out and about.
12 top walking accessories for your dog
Whether you're looking for some doggy stocking fillers (check out our Christmas gift guide) or want to splash out on a flashy new toy, you'll find what you're looking for below.
Here's our rundown of the must-have accessories for every dog who loves walkies!
Retractable lead
Perhaps the most important item for a walk is the lead. No responsible pet parent would leave home without one, giving you ultimate control while knowing your canine is safe.
Sometimes, though, a short one isn't enough. Of course, there are certain areas where you can let your dog run free, but many walking spots ask you to keep them on a lead.
The solution? A retractable version!
Click the lock button when walking through towns, but once you hit the woods, let it go. Most retractable models will let your dog wander at least 5 metres ahead, if not more, and they don't need to set you back a lot either. Just take a look at this no tangle lead!
Flashing collar
Walking along country lanes in the dark can be risky, especially if drivers can't see you coming. Solve this problem with a fun and funky flashing collar!
Why not go a little further and get you and your canine companion matching high-vis jackets? And don't forget to keep your pet on the side away from the traffic.
When you get to the park, perhaps you're wary of letting your old dog off the lead during the cold, long nights. All it takes is a few feet, and you can't see them. The last thing you want is to lose your beloved pooch.
With a flashing collar, your dog will be able to explore as much as they like while you keep an eye on them.
If they do wander off – which older dogs sometimes have a habit of doing – you should:
Report it to the microchip company – this way, no one can change their details.
Scour any areas your dog is familiar with and might head to.
Get in touch with local authorities. You'll need to complete a police report if you think they've been stolen.
Tell local rescue centres.
Contact your local council's dog warden service.
Spread the word with posters and by publishing on social media. Senior dog insurance from Petwise could help with those advertising costs, as well as a reward fee if someone returns your dog.
Activity tracker
Wear a fitness tracker? Like keeping track of calories burned and changes to your heart rate? Well, you can do the same for your ageing dog!
The older they get, the more likely canines are to experience health concerns, just like us. Senior dog insurance is an excellent way to protect your pet, but it shouldn't be the only way.
With one of these fancy gizmos attached to your dog's collar, you can keep an eye on their vital statistics and see how much exercise they're getting. They'll look pretty cool while they're at it, too!
Spot something concerning while monitoring the tracker? Perhaps they're losing weight fast? Get them to the vet!
This hi-tech gadget could help you spot potential health issues that you'd otherwise miss. So, pick up a PitPat for your pooch and start setting goals for your dog today.
Coat
If you feel a chill the moment you step out the front door, it's likely your old dog is feeling the same. They might have a cosy looking layer of fur that we don't, but that doesn't mean they don't feel the cold!
In fact, older dogs are much more likely to experience health concerns in the colder months, and need extra care from their doting pet parent.
So, to stop joints seizing up or your elderly hound suffering from hypothermia, why not get them a coat? A well-insulated layer could make a big difference, especially if you own a short-haired breed.
Reflective balls
Does your 10-year-old lab enjoy a game of fetch just as much as they did when they were a pup? Unfortunately, dull days and long nights make it challenging to find enough time to get a few throws in.
So, what better way to bring out your dog's inner puppy than with a reflective or light-up ball? It doesn't matter if the sun's gone down when you have one of these in your bag.
Worried about the batteries running out? Get yourself a glow in the dark model. Just make sure they get plenty of natural light to 'charge' them during the day and hey presto!
Paw protectors
We've already mentioned how cold weather can take its toll on grey-haired pooches, but it's not just the temperature you need to watch out for.
Slippery ice could cause a wobbly old dog to slip and fall, seeing you claim on your senior dog insurance. And that's not all. Salt and grit might be good at helping you stay on your feet, but it can do a lot of damage to those delicate, thinning paw pads.
Think you're out of danger once summer rolls around? Think again. Hot tarmac is just as big a threat to their feet, so a pair of comfortable doggy boots is a walking essential, whatever the weather.
Carry case
We all feel more tired as we get older. And it's no different for your beloved pet. As a puppy, they'd run for hours on end, never getting worn out. But now the years have ticked by, they might find it harder to keep up with you on those 5-mile country walks.
That doesn't mean you can't enjoy hiking across fields and hills, though. Grab yourself a doggy pack! Carry cases come in all shapes and sizes too.
Poo bag carrier
Picture this: you're walking along the high street and your dog decides it's time to go. We know, not the most convenient timing, but never mind. You dig your hand in your pocket to pull out a poo bag, but uh oh. It looks like you left them behind!
Now, a poo bag carrier isn't an essential item as such, but it could mean you're less likely to leave the bags at home. Most poo bag holders come with a clip, like this one, so you can always keep it connected to your backpack, dog lead or keys.
Dog treat pouch
Even the oldest dogs still love a bit of praise. Whether they come when called or sit when you tell them to, positive reinforcement is an excellent way to keep up their good behaviour. And it's never too late to teach an old dog new tricks!
Keeping your pet's favourite snacks in a handy bag means you have easy access whenever you need one.
Towel
Rain. Snow. Sleet. Mud. There are a lot of reasons why this basic but essential item is a must for any dog walking kit.
Getting caught in a sudden downpour is nothing new to us dog lovers, but isn't it nice to dry off before getting in the car or going indoors?
An old towel will do the trick, or you can splash out on a fancy one especially for the job. Your dog won't be fussed!
Plastic free toys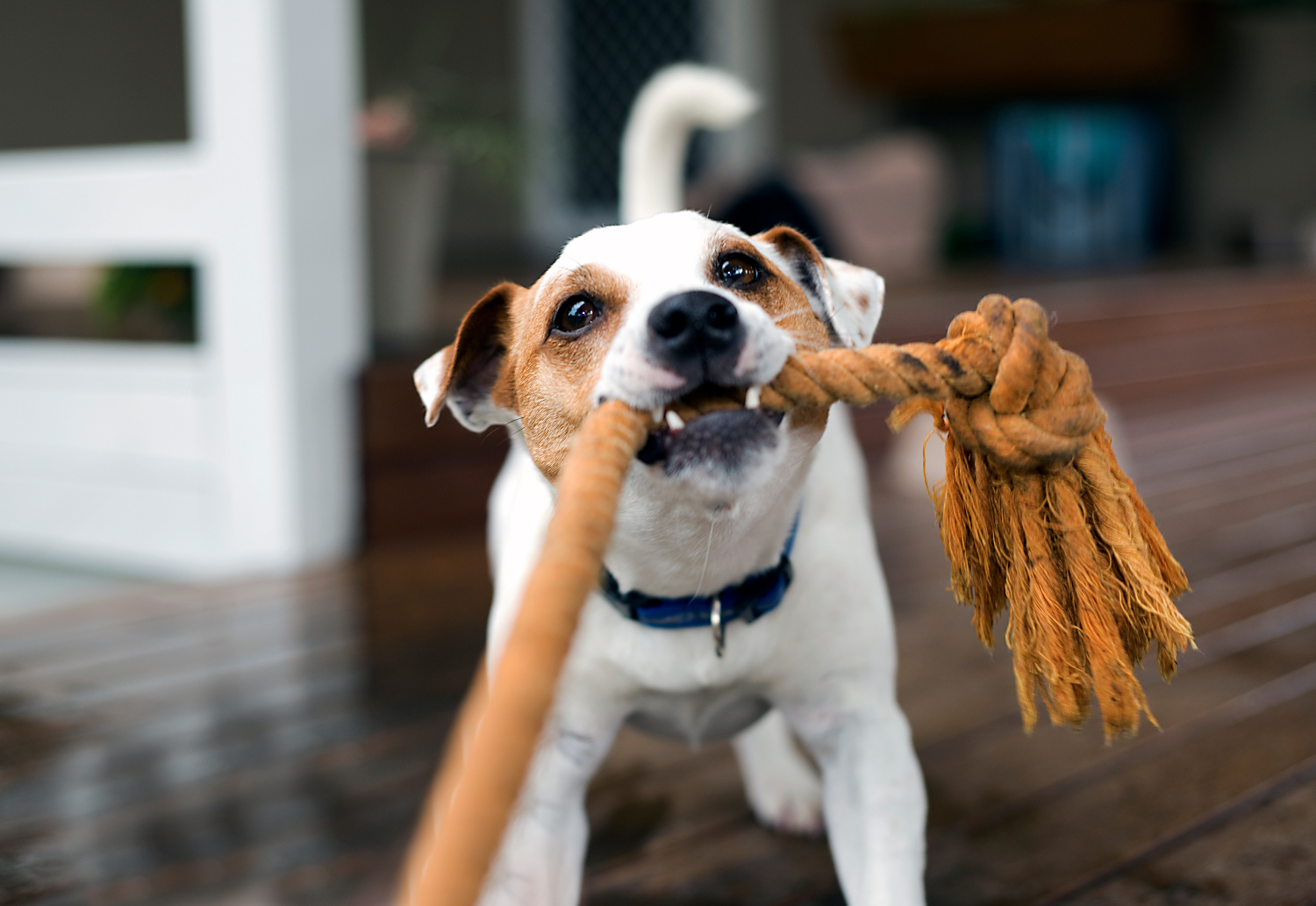 What's a good walkie without some fun and games? If your old pooch enjoys a good run around, a game of fetch with the Chuckit! Ultra Fetch Stick will make sure they get all the exercise they need. It even floats on water – just don't forget the towel for when your dog jumps in after it!
Is your hound more of a tug-of-war fan? A strong, durable rope toy makes the perfect toy and will help clean their teeth amidst all the fun.
Did you know dental issues are some of the most common health concerns in ageing canines? The older they get, the more at risk they are of:
Gingivitis
Periodontitis
Tooth decay and cavities
Fractured teeth and jaw from a fall
All senior dog insurance plans from Petwise come with dental cover as standard to keep those gnashers in top condition.
Collapsible bowl
All that running around is bound to be thirsty work, right? Help your pet rehydrate with a portable bowl.
Simply fill it with a little water whenever you need to. This is especially important in the summer when your four-legged friend is more likely to overheat during exercise.
7 best walking accessories for dog owners
So, we've shared what must-haves your dog needs in its walking kit, but what about yourself? Don't worry, we've got you covered, too!
Every dog walker needs the right gear to stay safe, warm and comfortable. Not sure what? Let's find out!
Torch
As the nights draw in, it's better to take your dog out during the day, but we know that isn't always possible. Sometimes work, school and other commitments mean you and your pooch will be heading out after dark, and that's OK.
By carrying a torch, you can illuminate those dark alleys and country lanes, lowering the risk of any dangers. Any type will do, but why not keep your hands free by arming yourself with a head torch?
This way, you can keep control of your pup and give plenty of pats and praise along the way.
Whistle
Got one of those dogs who loves to run further than your voice will travel? Or perhaps yours just has selective hearing. Or bad hearing for that matter! Whatever the reason, they don't always come when called.
There'll be no excuses with a dog whistle like this one from ACME. Far reaching and great for training, this is an essential item for any pet parent's walking bag. It comes in lots of fancy colours, too!
Coat
OK, we're sure you have a coat or two at home but wearing the right one is essential for ultimate comfort. It's no good having a puffer jacket without a hood when the heavens open – we've all been there.
Check the weather before leaving home and decide whether waterproofs are a must or if something well-insulated would work better. Don't forget to layer up in winter and take your hat, scarf and gloves.
Walking boots
Are you guilty of heading out for a walk in the sun and only wearing your flip flops? Or maybe you've gone out in your trainers only to trail through thick mud mid-walk.
You can't go wrong with a quality pair of walking boots. Come rain or shine, this footwear must-have will keep your feet warm and dry while providing excellent grip on any surface.
Tick remover
Tick season usually lasts from March to October, but it sometimes drags on when the weather's been especially wet or warm.
These tiny pests can cause extremely itchy welts and even Lyme disease, which could cause problems for your older dog, especially if they already have a weakened immune system.
Signs of ticks include:
A bullseye rash around bite
Fever
Tiredness
Lameness
The Kennel Club recommends checking your pet for ticks every time you've been out in the countryside. Move your hands up and down their body, looking for small bumps.
What if you find one? Take it off with a painless tick remover tool. Keep this small gadget in your bag at all times to fight the pests whenever you need to.
Remember to budget for annual tick and flea treatments alongside your senior dog insurance.
If you also happen to own a cat, check out our blog on how to care for a cat with a fever.
First aid kit
Your ageing dog might not be as agile as it once was and slips and falls seem to happen more than they used to. Taking a mini first aid kit out with you means you can patch up small cuts and stop bleeding before getting them to the vet.
The Blue Cross has some tips on what to include in your kit, or you can buy some ready to use, like the Pawly Pet First Aid Kit.
When your dog falls and injures themself while on a walk, it can be worrying as a pet parent. Got senior dog insurance with us? Our 24/7 vet video calls are there when you've got a question.
Bumbag
With all this doggy walking gear, you need somewhere to keep it all! Last but not least on our list is the bumbag.
Yes, you can take a handbag or backpack, but there's nothing stopping it from slipping down your arms when you're trying to put on a lead or pick up a ball. We all know how annoying that can be!
With a bumbag, your hands will be free for a game of fetch, to scoop up a poo or bandage a nasty scrape, making your dog walking life a whole lot easier.
Walking tips for your senior dog
Has all this talk of dog walking made you want to strap on your boots and head outside? Before you go, take a look at our tips on walking your senior pet:
Keep walks short but regular – Are long walks becoming a struggle with old age? That doesn't mean your dog should stay indoors. Find new, shorter routes and take them out more often. Their ageing joints will thank you!
Take things slowly – Never rush your dog while on a walk – even if you're in a hurry. Let them set the pace and only go as far as they're comfortable with.
Have a break – Those lungs aren't what they used to be, and your dog is bound to tire quicker than it used to. Give them plenty of time to stop and sniff and have a sit down if necessary.
Check the weather – Extreme weather (hot or cold) is tough on old dogs, so try to time your walk for when the temperature is most tolerable. Wrap them up when it's super chilly; don't walk them at the hottest time of day in summer and in both of those situations don't stay out for long.
Stay hydrated – Dehydration can quickly turn into a dangerous situation with older hounds, which could see you claiming on your senior dog insurance. Don't forget to pack your collapsible dog bowl to give them water regularly.
If your pet is struggling to get much exercise during winter, why not try some of our other tips for exercising your ageing dog? We've got plenty of ways to keep you both busy indoors.
Protect your pooch with senior dog insurance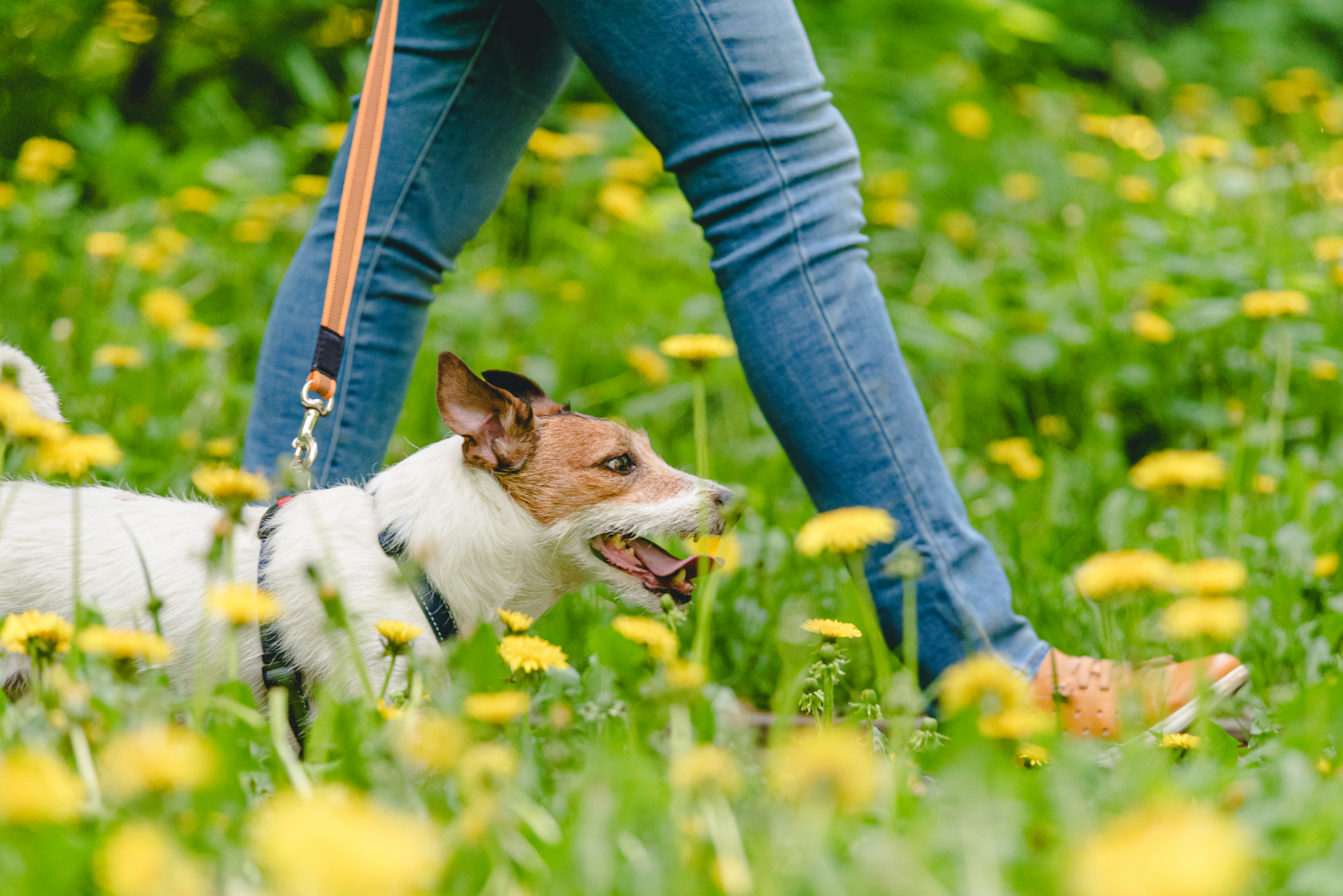 Dog walking should be fun for you both, even when your dog is getting on in years.
At Petwise, we understand your senior canines' needs, which is why our special pet insurance plans are tailored specifically to dogs aged 7 and over – and there's no upper age limit!
Every senior dog insurance policy gives you access to our 24/7 vet video consultations and comes with dental cover as standard. Need help with your ageing dog's special diet? We can cover that, too.
Don't wait any longer to give your old dog the lifetime protection it deserves. Get a quote from Petwise today.