Top 10 gifts to make your older dog feel like a pup again 
Want to encourage your older dog to move more? Petwise shares the 10 best gifts that will bring out the playful side of your young-at-heart canine.
Do we ever stop enjoying toys? Whether it's a huge Lego model, a 10,000 piece puzzle, or decorating a doll's house, there's always something that brings out the child in us, and our ageing canine companions are just the same.
Old Fido might not run after a ball as quickly as he once did, and he might not gnaw through chew toys at such a fast rate, but that doesn't mean he can't have fun anymore!
Toys are an excellent way to look out for your elderly dog's wellbeing, as they stimulate them mentally and physically. Combine these toys with lots of love and specialist pet insurance for older dogs and you'll be the best pet parent you can be.
So, why not treat your ageing pet and make them feel like a puppy again? We share the 10 best gift ideas that'll give your four-legged friend hours of fun and keep those joints moving!
What makes a good toy for older dogs?
Before we dive into our top picks, let's look at what earns a toy a spot on our list. After all, the last thing you want is another chew toy that's ignored or destroyed on the first day.
Make sure any new toy is:
Interactive: A lot of your canine companion's toys need to be interactive. Some of these items will be for you both to play together and others will keep your dog busy and stimulate them mentally when they're on their own.
Durable: This is usually the biggest requirement for any pet parent. Canines have sharp teeth and strong jaws, so poorly made items won't last longer than 5 minutes. If your ageing pooch bites off a chunk and swallows it, you might also be putting in a claim on your pet insurance for older dogs.
Comforting: However old your pet gets, they'll still enjoy a comforting toy to snuggle up with at night or when they're left by themselves. This could be anything from a doggy teddy to a cosy plush blanket.
To make your collection of dog toys last, it's a good idea to get a selection to please all your dog's needs and rotate them every week. If they have a favourite cuddly toy, leave it out for them all the time. 
Here are 10 toys with great customer reviews that your pooch may like:
Price: £12.26
Why we love it:
Dogs love a squeaky chew toy, and this one doesn't disappoint! It's durable and made with natural rubber to withstand even the toughest of senior chewers.
The chew toy is milk flavoured and cleans your elderly pooches' teeth while they gnaw, which is very beneficial to your dog's oral health.
Remember, older canines are at a higher risk of dental disease, so make sure your furry family member is covered with pet insurance for older dogs to get emergency care when they need it.
Use this fun addition to your dog's toy box for a game of fetch, to keep them occupied for a few hours, and to relieve any pent up stress your ageing pet might be experiencing.
Price: £12.99
Why we love it:
Is your old dog constantly chewing its way through your slippers? You can keep your footwear intact when you get them this fun squeaky shoe chew toy.
Choose from three bright colours and let your dog sniff it out, thanks to its delicious beefy flavour.
Keep your pet entertained when you leave the house, or take them out for a game of fetch to help your ageing hound stay fit and healthy.
This is another option to keep your pooches' dental health in check as the soft natural rubber cleans their teeth, freshens their breath, and soothes toothache.
Price: £16.63
Why we love it:
Does your elderly four-legged friend still go bonkers for balls? The virtually indestructible BOOMER BALL is made from high-quality polyethylene, meaning even the sharpest of canine teeth will find it tough to puncture.
The ball is designed to be too big for canines to pick up, so they can enjoy hours of chasing fun and get plenty of exercise.
Ageing dogs need to keep active to maintain strong bones and muscles and avoid being overweight, which they become more prone to as they enter their golden years.
Worried about your senior canine's weight? Use our 24/7 vet video consultation service for quick advice if you have pet insurance for older dogs with Petwise.
Price: £9.14
Why we love it:
Are you worried about having to claim on your pet insurance for older dogs because your four-legged friend got injured gnawing on a sharp stick?
With this durable, rubber toy, your senior pet can feed its urge for a game of fetch without doing their teeth and gums any damage.
The toy comes in a bright colour so can be easily found and floats on water if your dog enjoys retrieving sticks from a lake or river. 
Price: £8.99
Why we love it:
If you're looking for a toy that keeps your senior dog mentally stimulated, you can't go wrong with this treat dispenser.
Brain training games are proven to help keep our minds young, and these toys work in a similar way for our canine companions.
Pop a treat inside and watch as your elderly dog works on getting it out. Your pet will love the challenge and enjoy a tasty reward at the end.
The ball can also be used for a game of fetch at the park and is made from safe materials that help keep your dog's teeth clean.
Price: £10.99
Why we love it:
This is another top toy to reduce the risk of dental disease in your ageing pet and is one of the most durable around.
Not only does this super chew look adorable, but it also helps clean your dog's teeth with its host of nubs and grooves.
The toy comes infused with baking soda to help combat plaque and tartar build up. Don't forget you still need to clean your canine's teeth with regular brushing and take them for frequent vet visits to spot issues before they become too serious.
Check-ups at the vet aren't included in your pet insurance for older dogs but are an essential part of budgeting for your senior four-legged friend.
Price: £6.99
Why we love it:
This is the ultimate chewing ring and has been tested on some of the strongest breeds, including German Shepherd, Siberian Husky, and English Bulldog.
The toy looks after their teeth while satisfying the urge to chew, keeping your furniture and shoes out of harm's way.
The rings come in tasty flavours like beef, and taste even better after freezing. A cold, icy toy like this does wonders for soothing tooth pain in senior dogs, keeping them calm and relaxed in the process.
The chew toy is made from non-toxic materials and is another top contender for keeping dental disease at bay.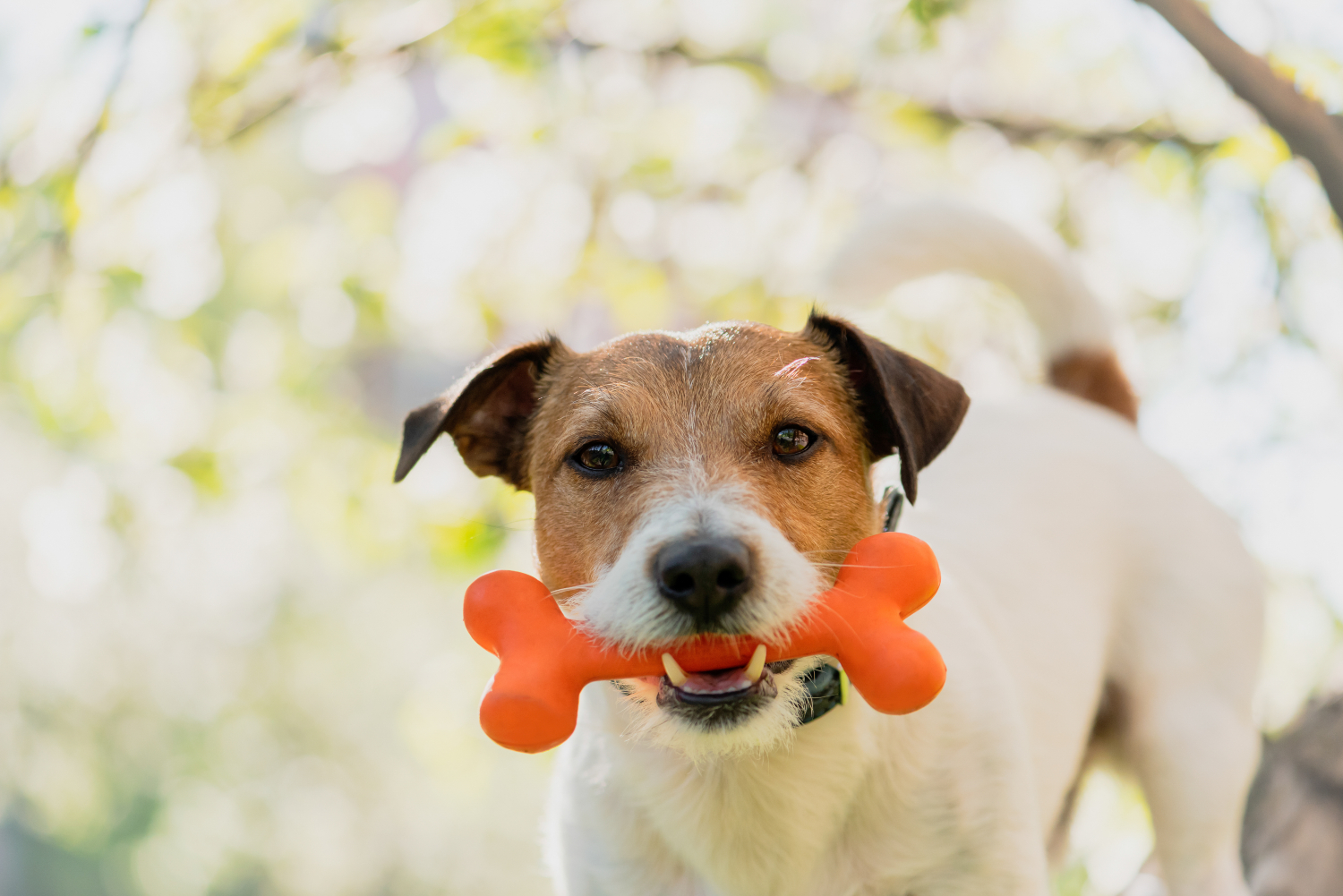 Price: £19.49
Why we love it:
Does your ageing pooch hang around your feet when you're cooking up some bacon? They will love this wishbone bacon-flavoured chew!
It also comes in other flavours – chicken and peanut butter – to suit all palates.
Instead of worrying about a real bone splintering in their mouth and triggering a claim on your pet insurance for older dogs, they can happily chew on this toy for hours without seriously damaging their teeth, gums, and tummy.
The toy is easy to pick up and is made in a dog-friendly shape so they can get a good grip. This chew is long-lasting and can withstand the toughest chewers in town.
Price: £18.19
Why we love it:
If you have an ageing pooch who loves peanut butter but has become allergic to it, then this chew toy is the ideal gift.
The flavour might taste like peanut butter, but the item is completely allergen free. It also comes with lots of tiny cells for you to squeeze your dog's favourite spread inside, which slowly oozes out over hours.
Curb your canine's stress and anxiety with this delicious toy made from premium artisan nylon. It promotes oral health, too!
Price: £8.78
Why we love it:
Getting old doesn't mean you need to ditch your cuddly toys! This super snuggly bear is perfect for a bedtime companion or to provide your young-at-heart dog with some company when they experience behaviour problems like separation anxiety.
Not only does this teddy look cute, it's also extremely durable and comes with internal knotted ropes in case he turns into your pet's favourite tug-of-war toy.
Worried your super chewer will gnaw its way through the bear? There's minimal stuffing around the ropes, which means less mess.
Why do old dogs chew?
Chewing is a natural behaviour for dogs, so you don't want to stop your dog from chewing just because they're getting older. However, destructive chewing should always be discouraged.
To combat this type of unwanted behaviour, clinical animal behaviourist Rosie Bescoby advises that you should always provide your canine with a good supply of toys, kongs, licky mats or consumable chews.
"Just make sure your dog is supervised to ensure bits don't break off, and there's no choking hazard," says Rosie. Above all, never punish your dog for chewing.
Watch more of Rosie's top tips for good dog behaviour here.
How can you tell your dog is getting old?
Most canines are considered 'senior' when they reach 7 or 8 years old, but many dogs remain active for years into their old age.
If your pet is well into its golden years, the following signs hint that they are truly becoming an elderly pooch:
Eating less
Drinking more (this indicates to various health issues, like diabetes)
Weight loss
Bad breath
Lethargy and tiredness
Lesions and bumps
Reluctance to go out and walk
Coughing
Appearing disorientated
Loss of balance
Along with all these typical ageing symptoms, your senior dog is a lot more susceptible to many health concerns, like cancer, heart disease, and dental issues.
The best way to keep your old dog happy and healthy is with regular check-ups at the vet. This way, they can spot concerns before they reach an untreatable stage.
If you suspect your animal is severely ill, take them to the vet immediately. With pet insurance for older dogs in place, you can get financial help with their treatment.
Top tips for exercising your older canine
Your ageing dog has been a loyal companion for years, so it's only right you reward their faithfulness by protecting their health.
As well as getting pet insurance for older dogs, you need to make sure your canine gets enough exercise and eats a balanced diet to live a long and happy life.
According to the Kennel Club, as your dog ages, they use up less energy and fat deposits usually increase, meaning it's much easier for them to pile on the pounds.
The toys mentioned above are an excellent start to making your golden oldie feel like a puppy again, but what are the best ways to keep them fit well into old age?
The AKC the following:
Keep walks short but regular to avoid joints becoming stiff and muscles seizing up.
Never stop walking, however old your pet gets. Even if they can only walk to the end of the block, they need fresh air and a chance to sniff and stretch their legs daily.
Stick to familiar places if your dog has started having problems with their senses to prevent them getting confused and anxious.
Keep an eye on the cold weather before you go out. The older they get, the more difficult it is for your four-legged friend to regulate their body temperature.
Let your dog set the pace and never rush them along. If they're tired and want to stop, let them rest.
If the weather is too cold or hot to take your elderly pet outdoors, exercising indoors can be just as beneficial. Here are a few suggestions you can try with some of the toys on our list:
A game of tug-of-war
Hide and seek with you or a treat
Fetch with a soft toy
Mental stimulation with an interactive puzzle feeder
3 ways to exercise your senior dog
As well as the toys we've mentioned above, you could try one of these 4 fab ideas for keeping your older canine fit and healthy.
Scent games - Scent trails are an excellent way to keep your dog's brain engaged. Make sure there's a tasty reward at the end.
Water therapy - Swimming is a great low-impact exercise for older dogs whose joints aren't what they once were, especially for those with arthritis.
Socialising - You may not want to go as far as buying a new puppy, but just being around other dogs will help stimulate your ageing friend. Just remove them from the situation when you can see they're getting tired. If they're in pain, they might get aggressive which can lead to injuries – yet another time when pet insurance for older dogs may come in .
Find out more ways to exercise an older dog elsewhere on our site.
What's the best diet for older dogs?
Like with humans, your dog's nutritional needs change throughout its lifetime, and your old pet shouldn't be eating the same food it did as a puppy.
A dog's metabolism slows down with age and they become less active in general, which means it's much easier for them to become overweight, and this can lead to a host of other medical problems.
Your dog's diet should contain fewer calories but an increase in protein. If your four-legged friend has heart disease, diabetes, kidney issues, or other serious health concerns, they may need to go on a special diet.
You'll need to discuss with your vet what food is best for your canine companion. High-quality meals can become costly over time, but with pet insurance for older dogs from Petwise, you can get help with a senior food contribution in certain circumstances.
What to do if your old dog starts losing weight?
It's not uncommon for senior pets to lose a bit of muscle mass and some weight, but if they lose a significant amount (10% of their normal body weight), this is cause for concern.
You can tell your ageing pooch is underweight if they are visibly bony and have a very tucked in waist. As soon as you notice any signs of weight loss, take them to the vet.
It might be that they're simply getting old and aren't eating like they used to, but it can also signal serious health concerns, like:
Diabetes
Kidney disease
Heart disease
Urinary tract infection (UTI)
Cancer
Dental disease
Dehydration
Liver or gallbladder problems
Taking your beloved pet to the vet sooner rather than later could mean the difference between them managing or recovering from an illness and becoming terminally ill.
So, even when you think it might be nothing to worry about, it's always important you get your dog seen by the vet.
Find the right pet insurance for your senior dog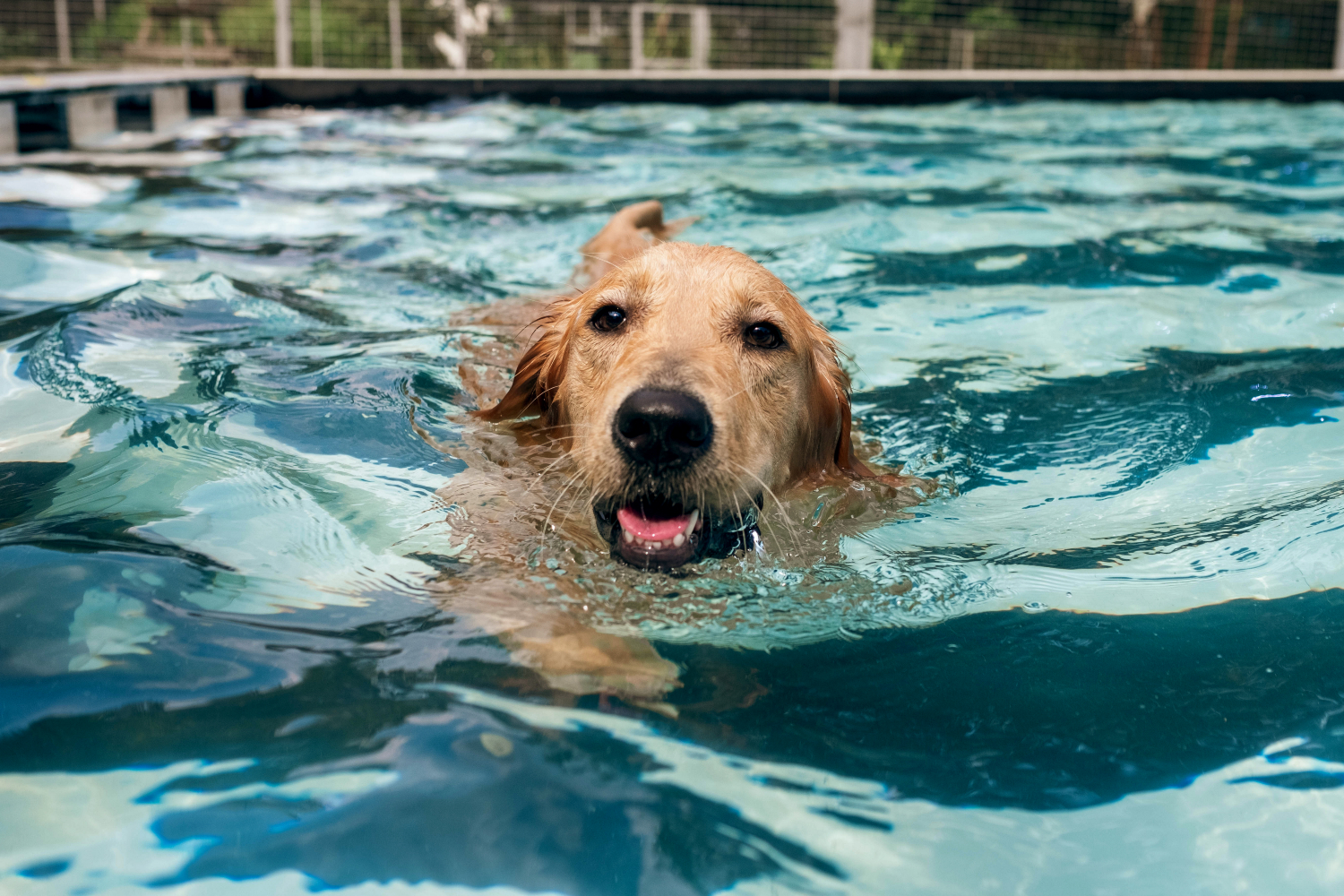 If you're worried that finding pet insurance for older dogs is going to be difficult, look no further than Petwise.
We specialise in senior pets aged 7 and over, and there's no upper age limit, so even the oldest four-legged family members can get the cover they deserve.
When you take out one of our lifetime pet insurance policies, you get:
Access to our 24-hour vet video consultation service
Senior food contribution
*
Payments made directly to your vet
Start protecting your ageing canine today with pet insurance for older dogs through Petwise.
*Subject to T&C's