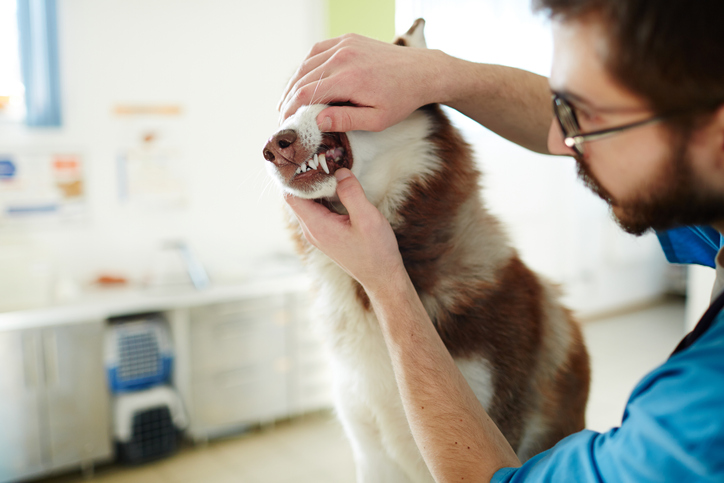 Taking care of your dog's teeth
Most pet dogs only get their teeth cleaned on a monthly basis, according to new research.
In a survey by pet supplements brand YuMOVE, owners said that giving their dog dental chews (53%), brushing with a special dog toothpaste (52%) and using chew toys (36%) were the most common ways they cleaned their furry friend's teeth.
Trying to bite the toothbrush (21%), tensing up (20%) and running away (16%) were the main reactions dogs have to getting their teeth brushed.
Tactics used by owners to get their dog to cooperate when brushing their teeth include bribing them with treats (32%) or distracting them (30%).
"Doggy dental issues are one of the most commonly reported problem at UK vets," said Dr Jayne Laycock, resident vet at YuMOVE.
"Issues occur when plaque and tartar build up on dogs' teeth over time, which is caused by excessive levels of bad bacteria in the mouth.
"While our research shows some people do brush their dog's teeth and use dental products at home, many of those will only do the job of cleaning away the dirt and grime on the surface of the teeth, but it won't necessarily tackle the root cause of the problem."
The survey of 2,000 owners also found that, while some people regularly have their dog's teeth checked at the vets, 41% felt they only needed to take them to the vet about their oral health if it was an obvious problem.
And yet 44% say they visit the dentist at least once every six months, regardless of whether they are experiencing dental troubles or just for a routine checkup.
"It's not uncommon for people to get checked over at the dentist on a regular basis, so it shouldn't be any different for your dog," Dr Laycock added.
With senior dog insurance from Petwise, all cover levels include dental treatment. We will pay fees for dental treatment as a result of an accident or illness, subject to evidence of yearly dental check-ups where any work recommended is carried out at your own expense.