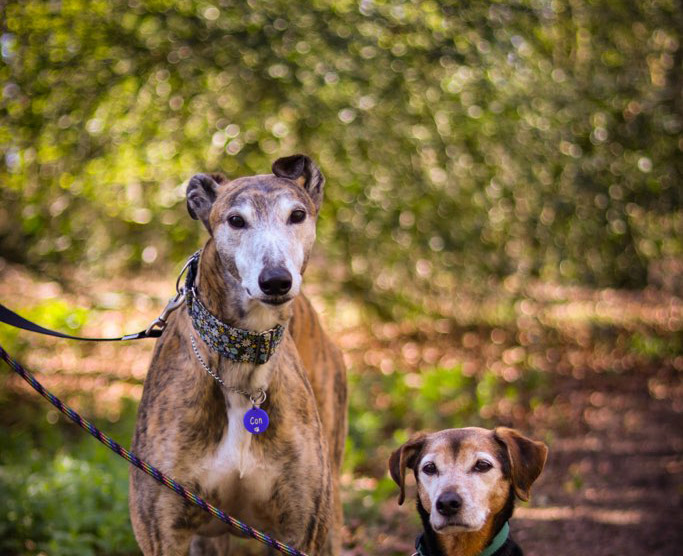 Greyhound Kennels – Karen Farley's story
This month Petwise Insurance features the outstanding 'Dunrunnin Rehoming Kennels', who are making sure these great racers can retire in style.
Did you know that around 8,000 racing greyhounds retire each year and when owners are done watching them run, they are often abandoned indiscriminately?
So, up steps the fabulous Karen Farley, whose mission is simple…to improve the lives of ex racing greyhounds by matching them with a brand-new home.
Since 2013, Karen has been runnin' the 'Dunrunnin Rehoming Kennels' in Longfield in Kent, along with a posse of volunteers and fellow greyhound lovers, giving these beautiful animals a new lease of life and a new loving home.
"We have between 25 to 35 dogs at any one time and the majority come straight from trainers living locally. Most are well looked after although we did get one direct from a vet in Essex who'd had to amputate a leg. The owner couldn't afford the vets bills, so the vet did the operation for nothing and asked us to take him for his recovery period and to find him a home. He is now thriving as a tri paw and is much loved in his new home."
Greyhounds are becoming more popular as pets as they are relatively low maintenance and often sleep up to 18 hours a day. Contrary to popular myth, they don't need hours of walking, in fact a couple of 20-minute spins a day can be more than enough.
"Covid has changed the way we conduct adoptions as usually one of our volunteers would carry out a home visit assessment. Now, we ask for a questionnaire to be filled out online with WhatsApp videos of the home and garden also sent in to make sure the dog will have the very best of environments. If we're happy, we then invite potential owners in for an interview. The key is making sure every dog has a loving family to take care of them."
Greyhounds can live well into their teens and some even longer. Karen says they make amazing pets and as they are short haired, they require minimal grooming. A couple of greyhounds were at the Kennels for five years and Karen says many, many tears were cried when they eventually left to find their new homes.7
"We do have some ex-superstars including my own pet who ran under the name Forest Con. He won the Puppy Derby in 2017 and retired to father lots of babies, unfortunately, none with his amazing speed. Now he's given up his hareem and retired to my sofa aged six. We also home a dog he beat in the Puppy Derby Final called Bridgehouse Boy, who is now also very much a couch potato!"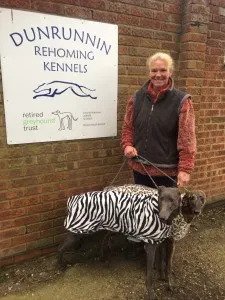 It's truly amazing work that Karen and her team undertake at their kennels and their love, enthusiasm and care shines through.