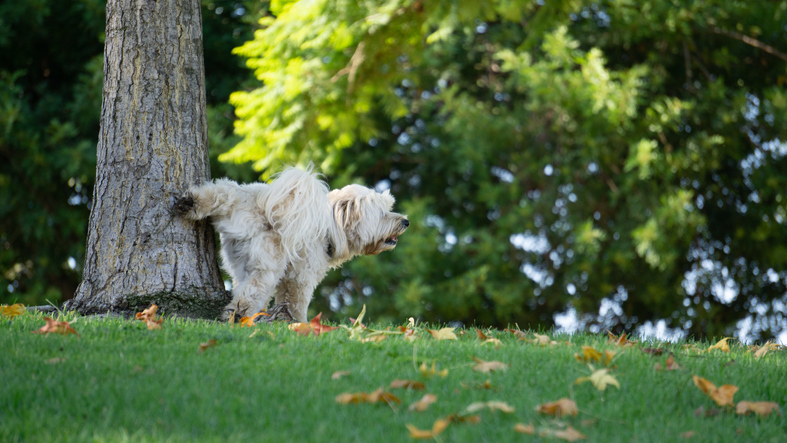 Dog pee and poo is harming nature reserves, study suggests
Dog walking in nature reserves is contributing a significant amount of nutrients to the environment through their faeces and urine, researchers say.
There are concerns that the build-up of phosphorous and nitrogen could result in over-fertilisation of the ground, impacting local biodiversity.
Researchers at Ghent University in Belgium estimate that each year dog faeces and urine add an average of 11kg of nitrogen and 5kg of phosphorous per hectare to nature reserves near the city of Ghent.
In the study, the researchers modelled different scenarios including if the dogs were on or off the lead and if owners picked up after their dog.
In a scenario where all dogs were kept on the lead (legally required in all these reserves) this reduced the fertilisation rates in the largest part of the reserves but strongly increased fertilisation rates in the areas around paths. Over a year this input was as high as 175kg of nitrogen and 73kg of phosphorus per hectare.
Lead author Professor Pieter De Frenne of Ghent University said: "In our scenario where all dogs were kept on leashes, we found that in these concentrated areas around paths, nutrient inputs of both nitrogen and phosphorus exceeded legal limits for fertilisation of agricultural land. Which is quite staggering as our study concerned nature reserves!"
In a scenario where dogs were on leads but all owners picked up their dogs' poo, fertilisation levels were reduced by 56% for nitrogen and 97% for phosphorus.
The researchers urged owners to keep their dogs on short leads in sensitive areas and to pick up after their dogs. They also called for the establishment of more off-leash dog parks to reduce the pressure on nature reserves.
At Petwise we specialise in senior dog insurance to help keep your old dog learning new tricks! Choose from seven cover levels, with no upper joining age limit and benefits including dental cover as standard.