Pet insurance for older cats
Cats and dogs – just like their owners – grow older over time. It's just one of those things. And the more senior your cat, the more consideration you need to give to their changing needs.
One of those needs is their health. As your cat grows older, they will have more complex health requirements, which is why it's a good idea to consider older cats' pet insurance. With the right policy in place, it can help with the cost of veterinary treatment and provide peace of mind should anything happen to your beloved feline friend.
In this article we will answer some of your key questions. Such as what is considered senior for cats? And how much does older pet insurance cost? But let's start with the basics…
Is it worth getting cover for an older cat?
When you're looking for cat insurance for a kitten or a younger cat, the options can seem endless. However, cat insurance for older cats in the UK can be harder to find. That's because insurance companies base their cover on risk. As a cat gets older, they become more susceptible to illness or injury. From an insurance perspective, that can mean higher premiums.
Most pet insurance providers agree that a cat  or a dog is classed 'senior' when it is aged eight or above. Some insurance companies will not let you take out a new policy for cats aged eight plus. If you own a specialist breed, you may discover the age limit is even younger. And if you're looking for pet insurance for a 15 year old cat or pet insurance for a 16 year old cat, you may find options become more limited still.
The truth is, there is no official right age to insure your cat. But, is it worth insuring an old cat? Absolutely! Because it's never too late to give them the cover and protection they deserve.
Taking out an insurance policy for your pet when they are younger means they're covered for life. As long as you renew the policy each year, the cover will continue even when they are past the upper age limit.
Whatever age your cat or your dog, always make sure you choose the right insurer. That means reading the small print and checking the policy details for age limits.
If you want to insure an older cat, look out for insurance providers specialising in older cat insurance. Petwise, for example, only insures pets aged seven years and older.
Common health conditions in older cats
When your older cat starts to 'slow down', it's easy to think that's just part of the ageing process. And while that is true, it is also important you make sure you're doing everything you can to make life as easier as possible for them.
There are plenty of conditions that can be treated quickly and effectively by your vet. And with the right treatment, you can help improve the quality and extend the life of your cat.
Here are some of the most common health conditions among older cats. But remember, the earlier you catch them, the more likely your vet will be able to prevent them from becoming life-threatening.
Arthritis: A very common condition in older cats, arthritis often goes unnoticed by owners who think their senior cat is simply slowing down with age. However, inflamed joints can cause your cat lots of pain. Luckily, it can be treated.
Cancer: Cats are at risk of developing different types of tumour as they grow older. Check for lumps and bumps across your cat's body on a regular basis. If you do find a lump, chances are it will be benign, but if it is malignant, the faster you take action, the more chance for a full recovery.
Cognitive dysfunction: Some senior cats suffer with cognitive dysfunction (aka dementia). Signs include disorientation, changes in social behaviour and wakefulness at night.
Deafness: When a cat starts to lose their hearing, they compensate with their other senses. This can make spotting deafness in older cats quite tricky. Ear disease can also trigger deafness.
Dental disease: Dental disease in cats includes a build-up of tartar and inflamed gums. Regular dental health checks will spot any signs early and allow preventative treatment to be taken.
Diabetes: Middle-aged and older cats are more at risk of developing diabetes (a condition that affects the control of blood sugar levels). Overweight cats are particularly at risk.
Kidney disease: One of the most common problems affecting middle-aged and older cats, kidney disease is not always obvious. Early diagnosis (through regular check-ups) can help extend the cat's life and give them a better quality of life.
Types of senior cat insurance
When asking yourself: Should I insure my ten year old cat?, it's good to understand all your options.
Essentially, there are four types of insurance available for older cats – accident only, time limited, maximum benefit and lifetime cat insurance. Here's what you can expect from each one:
Accident-only pet insurance
This is the most cost-effective of all types of cat insurance, but it is also the most basic. This policy means your cat  or dog is covered if they have an accident that requires treatment. However if they develop an illness or have a pre-existing health condition, they will not be covered. As a result, this does not tend to be the best option for older cats. Aside from accidents, you will have to cover the cost of all your cat's health costs.
Time limited pet insurance
With a time limited pet insurance policy, the cost of your vet's bills will be covered for a set time period only. Should your older cat develop a symptom or condition that requires treatment, you will be able to claim costs for up to 12 months from the date the treatment started. This could be a good option if you want to cover your pet for short-term illnesses. However, do bear in mind that pre-existing conditions will not be covered.
Maximum benefit pet insurance
You're able to claim for a new injury or illness up to a set amount with maximum benefit insurance (aka: per condition insurance). With this type of policy, you will be able to keep claiming for the same condition, year on year, up to a fixed amount. Any pre-existing conditions your senior cat has will be considered when taking out this cover.
Lifetime pet insurance
The most comprehensive cat insurance available, lifetime insurance provides ongoing protection for your pet against accidents and illnesses. This type of cover is designed to protect your cat from a range of different illnesses and injuries over the course of their life. You may find lifetime insurance is the most expensive, but is also a popular choice with owners of older cats as pets and for obvious reasons. As long as you renew the policy each year, your older cat should be covered for life.
What to consider when looking for cover
As discussed, finding the right pet insurance policy for your older cat isn't always straightforward. But the right cover will be out there – you just need to do your research and check the small print.
With that in mind, here's what to look out for when buying pet insurance for your older cat:
Pre-existing health conditions: If your older cat has pre-existing conditions, it certainly does not mean that you can't get insurance. Pet insurance providers will offer quotes to older cats with pre-existing conditions, but it is likely that only new illnesses, which occur, will be covered (anything pre-existing will be excluded from cover.
For more information on what is and is not covered in relation to pre-existing conditions, please contact one of our specialists.
Excess: The excess is the amount of money you pay towards the cost of treatment before you can claim on insurance. The higher you set the excess amount, usually the less you will pay in premiums. However, always make sure you are able to cost the full excess amount. If your old cat requires treatment and you cannot pay it, the insurance company will not pay out.
Added extras: Often a cat's pet insurance policy will cover more than just your vet bills. Find the right policy and you may find you're covered for additional extras, such as:
o Holiday cancellation: If you have to cancel a trip because your pet is unwell
o Overseas treatment: If your cat or dog becomes ill while on holiday outside the UK
o Death from illness of accident: Typically, this covers the purchase or donation price of your pet if it dies or has to be put to sleep by a vet as a result of an illness or injury
o Farewell cover: This will cover the cost of putting your cat or dog to sleep, a burial or a cremation
o Senior food contribution: Money towards specialist food stuffs your cat may have to eat as they grow older
o Avoid letting a policy lapse: The best way to keep your cat protected is to keep renewing their policy each year. This is especially true for older cats, as you may struggle to find them new cover as each year goes by.
o Speak with your vet: When it comes to the wellbeing of your pet, your vet is a wealth of information. They will be able to tell you which health conditions your breed of cat may be prone to – allowing you to make a more informed decision when comparing pet insurance.
How much is an insurance policy for a senior cat?
The price of pet insurance - cat or any animal - can vary. Different insurers will give you different quotes, and the cost of your premiums will depend on the breed, age and location of your moggy.
For instance, if you own a pedigree old cat (e.g. a Bengal or Siamese) you may find they are more expensive to insure than your average tabby. That's because they can be prone to certain inherited health conditions.
Age is also a factor, as the older your cat gets, the more likely they are to develop health and dental conditions, thus the more medical treatment they require.
It's always worth shopping around for the best quotes. And when looking for pet insurance for seniors, Petwise is a good place to start.
How to save on pet insurance for older cats
Once you've answered the question: Can I insure my 12 year old cat?, it's time to look at how much you pay for a pet insurance policy. The amount is generally based on a series of factors, including breed, age, and postcode. This isn't a factor for those making a new quote, only for renewals.  Insurers will use this data to calculate your pet insurance premium.
Needless to say, when you are looking to insure an older cat, you are instantly pushing up the perceived risk factor – and therefore the cost of your premiums, too. However, there are some things you can do to save money on your pet insurance. These include:
Increase your excess: A higher excess can mean lower premiums. Just make sure you can afford the figure you settle on.
Call a vet advice line before going to the vet: If you are worried your older cat or dog is unwell, try calling an advice line before rushing straight to the vets. Most insurance providers offer them as part of their policies, and the majority are open 24/7. It will give you access to qualified nurses who can assess your pet over the phone and let you know if you need to bring them into the surgery. These helplines can help you save money – especially if a symptom or accident takes place out of opening hours.
Shop around for treatments: Shopping around for the best deal when your pet is in need of emergency treatment is not going to be an option. However, it's always worth getting different opinions and quotes for non-urgent treatment. Try to find out if an insurer has an agreement with a particular vet practice near you and see what you can save.
Make prevention a priority: Of course, the best way to avoid hefty vet bills is to take early preventative care. Make sure you take your older cat for regular check-ups at the vet, feed them a healthy diet, and let them get the exercise (and downtime) they need to stay happy and healthy for as long as possible
Benefits of an insurance policy for senior cats
At Petwise, we want owners to be able to enjoy their pet for as long as possible. That's why we provide cat insurance policies that are tailored to your needs (as an owner) as well as the needs of your older cat.
We're the first UK insurance company to offer new insurance policies exclusively for pets aged seven years and older. We also offer policies for most senior rescue cats and dogs, giving you the confidence to take an unwanted pet into your home and give it the love, care and attention it deserves, without worrying about its age or illnesses.
Getting the right senior cat insurance for your older cat doesn't have to be difficult. Get in touch with the team at Petwise and find out what we can offer you. Get a quote today.
Pet news & advice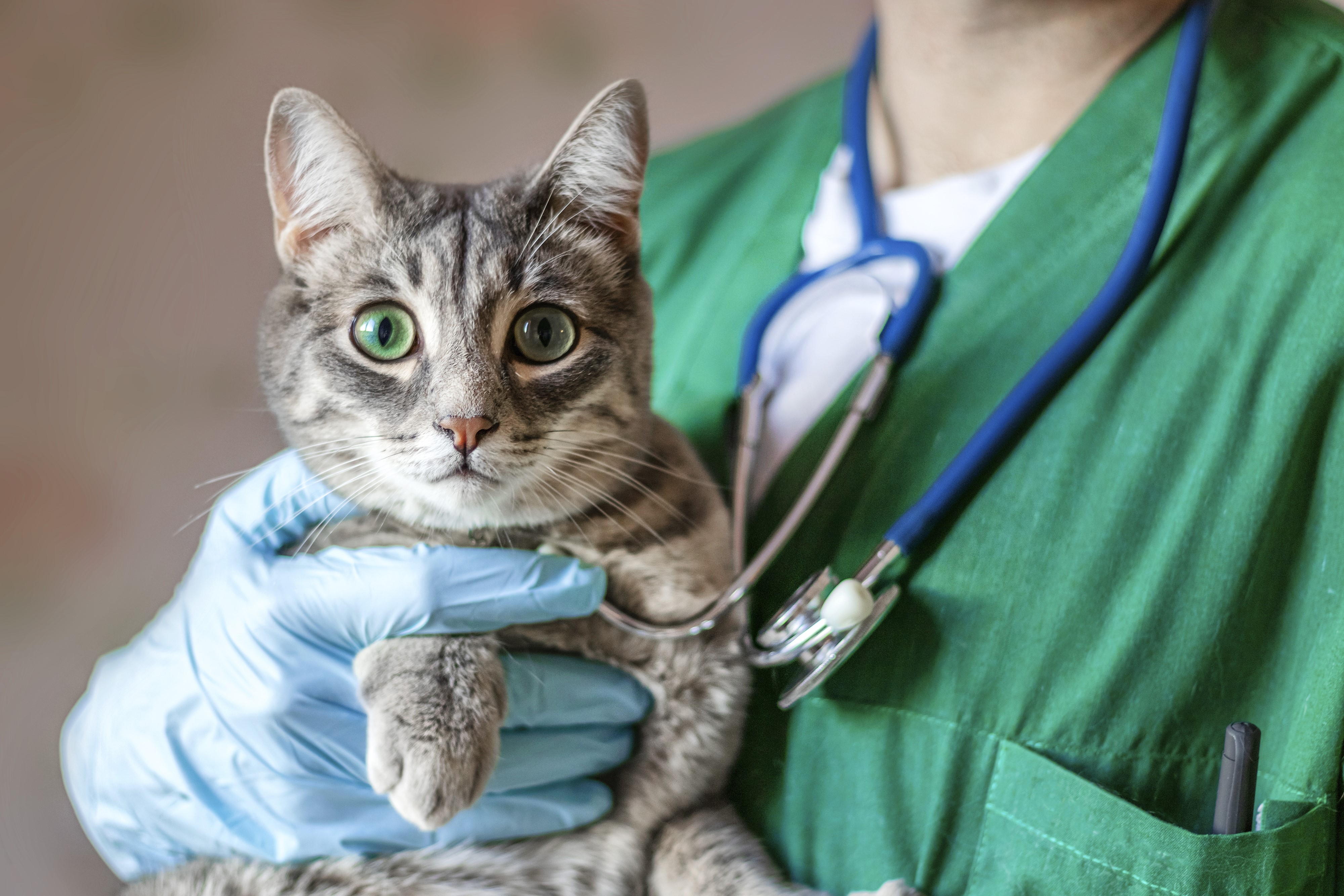 28/09/23
Feline calcivirus (FCV) is the most common upper respiratory tract pathogen in pet cats in the UK, researchers have found. FCV, along with feline herpesvirus (FHV) and Chlamydia felis (C. felis), are highly contagious, common oral infectious agents and the main cause of upper respiratory tract disease in cats.