Can you get pet insurance for an older dog?
The love you have for your dog stays the same no matter what their age. However, the same can't be said about the cost of vets' bills. As our four-legged friends grow older, it's more likely they will need treatment from a vet. And that can affect your insurance premiums.
In fact, owners of older dogs often struggle to find an insurance policy to suit them and their pet pooch. For instance, some insurance providers only let you take out a new pet insurance policy if your dog is under eight years (even younger for certain breeds).
That's why pet insurance specifically designed for older dogs is a good option. It can be a cost-effective way to ensure that you and your dog are covered if something does go wrong.
We've put together this guide to answer some of the questions you might have about finding the right insurance for an older dog.
But before we get to the question: can you get insurance for an old dog? First, we need to ask ourselves: at what age does a dog become classed as a 'senior'?
As with many things in life, there's no one-size-fits-all answer. Different dogs are considered 'older' at different ages. Factors such as their size, breed and lifestyle are all taken into account when it comes to placing a dog in the 'senior' category.
Here are a few examples of when dogs are considered older:
- Very large and giant dogs: 5 to 8 years
- Medium-sized dogs: 7 to 10 years
- Small dogs: 9 to 12 years
Dogs age in different ways. You will also be able to spot signs that your dog is growing old, such as greying fur, declining senses, needing more sleep, and them being more irritable.
But it's not only you who is taking note of these signs. Insurance providers will also be interested in the age of your pet pooch, using it as one of the factors they use to calculate your premiums.
Some insurance providers will have maximum age limits in place. Others may choose to fix a higher excess and remove cover for death by illness for older dogs. These are all things you need to consider before making a purchase.
However, there are also insurance companies – such as Petwise – that offer specialist insurance for senior pets. This gives you the option of taking out a carefully selected policy, which can help cover all kinds of age-related injuries and illnesses.
What types of insurance are available for old dogs?
There are four main types of insurance for older pets. These are as follows:
- Accident-only insurance
- Time limited insurance
- Maximum benefit insurance
- Lifetime insurance
This is the most basic level of cover you can find for your pet. As the name suggests, accident-only insurance only covers your pet's vets' fees if they are involved in an accident. These types of  insurance policies do not cover them for illnesses and generally offer no additional benefits. Accident-only policies also tend to have a maximum annual pay-out for each accidental injury – this might be a lifetime limit or can be renewed every 12 months.
Accident-only policies are the cheapest of all the options, but the nature of them makes them best suited to younger dogs or owners who are on a tight budget. They tend not to be suitable for an older pet, a pet with a pre-existing health condition, or one you suspect may be developing (or is prone to) a certain medical issue.
Time limited pet insurance
This type of policy will cover your pet if they have an accident or fall ill – but only for a specific period of time (usually 12 months). That means if you are four months into your policy and your dog falls ill and needs treatment, those costs will be covered for the next eight months of the policy and the four months after renewal (as long as you stay with the same provider).
However, each injury or condition will also have a maximum pay-out limit. Once that limit has been reached, you will have to cover subsequent treatment costs yourself.
If you have an old pet that suffers with a recurring health problem, time limited insurance might not be the best option. Make sure you understand exactly what you are getting before signing on the dotted line.
Maximum benefit pet insurance
As long as you stay with the same provider, a maximum benefit policy will ensure your older pet is covered up to a specific amount for each injury or illness that needs treatment. This policy is often seen as a good mid-price option, and could help you save on your insurance for an older pet.
However, make sure you are covered for the right amount. If not, you may find you're only able to claim for part of the treatment costs. Plus, when you have reached the maximum limit for a particular condition, you are no longer able to claim for it – even if you renew the policy. You will also find that pre-existing conditions are not covered.
Lifetime pet insurance
The most expensive of all types of insurance, but also the most comprehensive in terms of what you get, lifetime pet insurance tends to be the most inclusive option for older dog insurance. A lifetime policy offers continuous coverage, with an annual limit per condition which resets each year.
Providing you renew the policy every 12 months, a lifetime policy can cover your pooch for the rest of their life. Again, pre-existing conditions are not covered, so the earlier you take out a policy (i.e. before any long-term medical issues are diagnosed), the better. If you were to let a lifetime insurance policy lapse, you'll probably find a new policy won't cover pre-existing conditions.
Petwise's Lifetime insurance products have been awarded a 5* rating by Defaqto.
6 things to consider when looking for older dog insurance
When comparing pet insurance premiums for senior pets, you need to be thorough in your research. Different providers offer different levels of cover – so if you find a quote that seems too good to be true, make sure that's not the case. If your older dog suddenly needs medical attention, you don't want any surprises when you come to claim on your insurance policy.
Here are some of the key things you should consider when looking for senior pet insurance:
1. Pets with pre-existing conditions
You may find that some insurance companies refuse to insure older dogs with pre-existing medical conditions. In fact, most policies don't cover existing health conditions – which is why owners are advised to take out insurance while their beloved pet is still young and healthy. If your older dog does have a medical condition, you will need to seek out specialist insurance.
2. Excess
The excess is the amount you have to pay before your insurance provider will pay out on any claim. The excess amount can vary from policy to policy, but the general rule of thumb is: the higher the excess, the lower the premiums. Always make sure you're financially able to cover the full excess. As your dog grows older, you may find the excess on your insurance policy increases, too.
3. Co-payments
Once your dog reaches a certain age, some policies state that you need to pay a percentage of the cost of the claim yourself – that's in addition to the excess. This is known as co-insurance and is a common element of insurance for older pets. Co-insurance payments are usually between 10% and 20% of a claim, and increase with the age of your pooch. Always read the small print so you know exactly how much you will be expected to pay when you make a claim. Petwise is one of the only providers in the UK to never introduce a co-payment excess, making it a good choice if you want a fixed excess only.
4. Added extras
Make sure you are clear about what is included in a pet insurance policy. You will find that some policies don't just cover vets' bills, they may also pay out in a number of scenarios. For instance:
- If you have to cancel your holiday because your dog is unwell
- If your dog passes away
- If you need to cover the cost of emergency boarding
- If your pet is lost or stolen
- If your pet requires medical treatment while your family is overseas
Added extras can make all the difference when you need it the most. You might want to look out for things like dental cover, farewell cover, and a bereavement helpline as standard on a policy.
5. Third party liability
This covers any injuries to another person, another dog, or damage to another person's property caused by your dog. Providing your dog does not have a history of aggression, third-party liability will cover vets' bills, legal fees and the cost of any damage. You'll be covered if your dog injures someone aggressively, if your dog becomes over-excited and hurts someone, or they accidentally cause damage.
6. Age limits
When comparing the cost of insurance for older pets, always check for age limits on each policy. If you have a policy in place and keep up with your premiums, the cover will continue, even when your dog passes the maximum age. If you are looking for a new policy for a beloved old pet, keep an eye out for providers that offer policies with no upper age limit. For example, Petwise insures dogs and cats aged seven years and older.
Why does older pet insurance cost more?
How much you pay to insure your older dog depends on a number of different factors. These include its age, breed, size and health.
For example, German Shepherds (prone to hip dysplasia) and Bulldogs (prone to breathing difficulties) are generally more expensive to insure than a more resilient breed such as Border Terriers. Equally, larger breeds require more anaesthetic during surgery, so incur higher premiums.
Then there's the issue of age. As your dog gets older, the chances of them developing a health condition increases. Common conditions in older dogs include diabetes, arthritis, blindness and gum disease. It can be expensive to diagnose and treat these problems, meaning insurance companies tend to raise prices when pets start to get old.
It is impossible to know how much your pet's health will change as they grow older. You have to weigh up the cost of senior pet insurance cover against any potential treatment costs down the line. It's worth speaking with your vet about common ailments affecting your breed and the potential treatment costs. This will help you make an informed decision.
Older dog insurance: How to save money insuring a senior pet
You might be able to bring the cost of your pet insurance premiums down by getting quotes from insurance companies specialising in older pets.
Here are some top tips on how you can drive down the cost of your policy.
1. Get the right level of cover
The reason you take out older pet insurance is to make sure you have the right cover when you need it the most. When comparing insurance quotes, make sure you take your time, checking if a policy meets all of your pet's needs. The time and effort you spend now could mean you save money down the line. It will also mean you're not paying for anything you don't need.
2. Check the excess and co-insurance levels
Be completely clear about how much excess and co-insurance you are expected to pay. By offering to pay a larger excess in the event of a claim you can reduce your premiums. However, it is essential these amounts are affordable for you should you need to make a claim. If not, your insurance policy could be deemed void and your claim left unpaid.
3. Consider spaying or neutering your pets
Neutering or spaying your pet could potentially reduce your insurance premiums. This is because it reduces the chance of your pet developing certain health conditions. It can also reduce the risk of them straying.
4. Keep your pet healthy
Taking preventative action is a great way to keep your insurance premiums down. The healthier a pet, the less likely you will have to make a claim (which can drive up the cost of your premiums, depending on the policy). Here are some of the ways you can keep your dog as fit as a fiddle:
5. Look for multi-pet discounts
If you own more than one pet, it might be more cost-effective to have them all insured with the same insurance provider. Many insurance companies offer a multi-pet discount – often a reduction of around 10%.
At Petwise, we want to make sure owners of older dogs find the insurance they need. That's why we offer seven levels of cover designed with your senior pooch in mind. Get a quote today.
Pet news & advice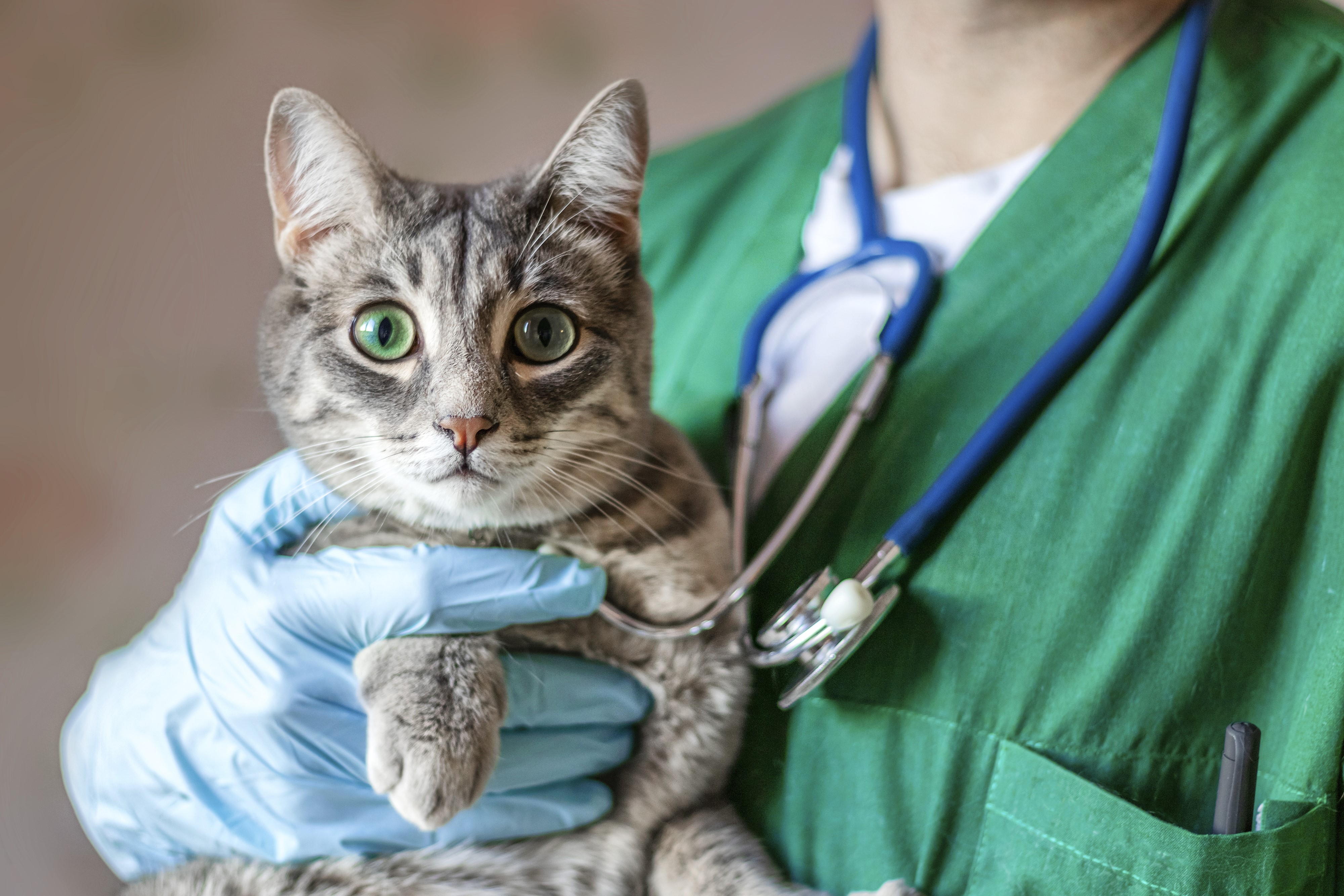 28/09/23
Feline calcivirus (FCV) is the most common upper respiratory tract pathogen in pet cats in the UK, researchers have found. FCV, along with feline herpesvirus (FHV) and Chlamydia felis (C. felis), are highly contagious, common oral infectious agents and the main cause of upper respiratory tract disease in cats.