Need to protect your senior cat? Let Petwise look out for your ageing mog with specialist cat insurance for older pets.
Your elderly cat is a long-serving member of your family and deserves the best protection throughout its golden years, but what about those chronic, pre-existing medical conditions?
Unfortunately, no insurance provider will cover pre-existing conditions 100%, but that doesn't mean you should neglect finding cover for your beloved pet.
A pet insurance policy from Petwise protects your old cat for the rest of its life. Although tso even the most senior felines get the protection they truly deserve.
To speak to our friendly team about the different levels of lifetime pet insurance cover, get in touch with Petwise today.
What is a pre-existing condition?
Pre-existing medical conditions are those that developed before you took out a cat insurance policy and can be split into two types.
Chronic pre-existing conditions: Cats can develop a chronic condition at any stage in their life, which is an ongoing health problem that needs long-term vet treatment. This can be one of various issues, including:
Arthritis
Diabetes
Cancer
Allergies
Epilepsy
Historic pre-existing conditions: This term refers to any illness or injury your cat has suffered from in the past but has now fully recovered. This can be an infection, digestive trouble or skin allergies.
When it comes to cat cover, pre-existing conditions are usually those your pet has been diagnosed with and got treatment for at some point in the past. Insurance providers may cover pre-existing conditions differently when it comes to what's included in your plan, so read your policy wording carefully.
Do I have to state my pet's pre-existing conditions?
If asked, you may need to disclose any previous medical conditions your pet has had.
Can I insure my cat with a pre-existing condition?
Yes, you can find coverage even if your pet has a pre-existing condition, but it's unlikely that the policy will cover treatment for the pre-existing illness.
At Petwise, we understand that finding the right protection for an ageing cat can be difficult, especially if they already suffer from health issues. That's why we offer various levels of lifetime pet cover to make sure every senior gets looked after the way it deserves.
We know that by middle age, most cats have suffered from some form of illness or injury, which is why we don't treat historic health problems as typical pre-existing conditions.
If the problem hasn't shown symptoms or required a trip to the vet for over 2 years, we won't consider it a pre-existing medical condition.
For the lifetime pet insurance your senior mog deserves, contact Petwise today.
Is it worth getting senior cat insurance if it doesn't cover pre-existing conditions?
Most standard insurers offer pet insurance for senior cats with pre-existing conditions however will not cover those specific conditions that the pet already has, but don't let that put you off finding protection for your feline friend.
Why is it still important to look out for your older cat with pet insurance?
Ongoing treatment for health issues can cost a lot
The older your cat gets, the higher its risk of developing more health issues. You might be able to pay for treatment for its current medical issue, but what if it develops another one or two in the next year? Vet bills and medicine soon add up, making a big dent in your bank balance over time.
When you choose lifetime pet cover for your beloved cat, you don't need to worry if and when they'll get the care they need to enjoy their senior years to the fullest.
Get cover before a new condition develops
Just because your cat suffers from one pre-existing condition, it doesn't mean it can't develop more, and the more medical issues your pet has. Even if you do get insurance down the line, any pre-existing conditions before you start that policy generally won't be paid for, so you'll need to cover that treatment yourself.
To avoid this difficult scenario and spending a small fortune, find cover for your pet as soon as possible. Specialist cat insurance from Petwise will pay for treatment and care for any new conditions that develop after your policy begins.
Your cat deserves the best treatment
When your cat becomes ill or gets into an accident, you don't want to worry about how you'll pay for the treatment or which vet you can afford. Our lifetime pet cover sorts the financial side for you, so you can take your feline to the vet of your choice and focus on getting them back to their old self.
Benefits of pet insurance with Petwise
Your senior mog is important to you, which makes it important to us. That's why we specialise in insurance for old cats making sure they get the medical attention they need through every stage of life.
Our knowledge of pet insurance and passion for our feline friends is why cat owners choose us to protect their cats.
No co-payment excess
Regardless of your pet's age, we never apply a co-payment excess, so there's no need to worry about covering a large part of your vet bills.
Unlimited vet video consultations
Worried about changes to your senior pet's body or behaviour?
Dental cover as standard*
We understand that the older your cat gets, the more likely it is to suffer from oral health issues, which is why we offer dental cover for new conditions as standard
Farewell cover included
Saying goodbye is always hard, so let us help with up to £150 of the costs if your pet needs to be put to sleep and towards its cremation or burial.
Bereavement helpline
Our support doesn't end once you've said your farewells – our bereavement helpline is here for you through difficult times 24 hours a day, 365 days a year. Give us a call on 0333 003 2258.
No upper age joining limit
Why do the golden oldies miss out on the best pet insurance policies because of their age? They don't with us! We have no upper age limit, so even the most senior pet gets the care it deserves.
Senior food contribution
Struggling to pay for your elderly cat's special diet? Get up to £25 every insurance period towards your pet's senior food.
Payments direct to your vet
No one likes dealing with the money side of things in an emergency, so let us sort out the vet fees directly and you can get back to caring for your poorly pet.
How long does a pre-existing condition last for pet insurance?
We understand that through every cat's life, they'll experience some illness and injury, but what if they haven't shown symptoms for a while?
At Petwise, if a pre-existing condition has shown no symptoms and you've sought no vet's advice for it in the last two years, we don't consider it a pre-existing condition.
That means any future issues related to a previous injury that's not considered a pre-existing condition will be covered and your senior pet will get treatment free up to the amount stated in your policy.
Will my pet insurance cover any new chronic conditions?
If your pet develops new chronic conditions while it's covered by pet insurance, vet visits and treatment will be paid for within the limits stated on your policy, unless you opted for an accident-only plan.
The cover you get for your pet's condition will depend on the type of cat insurance plan you chose and its limit and terms, so make sure you read the policy wording carefully.
Here's an overview of what to expect from the different types of insurance:
Lifetime pet cover: This is the most comprehensive cover and protects your pet up to a maximum figure each year, which renews every 12 months.
Maximum benefit pet insurance: This type of policy protects your cat for each condition or illness up to a certain limit, after which treatment isn't paid for.
Time-limited policy: Protect your cat for a specific time limit for each illness and injury. Once you reach the maximum or the time limit, you're not covered.
My pet developed a new long-term condition. What happens when I renew my policy?
If your cat develops a chronic condition while it's covered and you want to continue with your existing insurer for ongoing protection, your annual premiums will likely increase.
Some pet insurers will no longer cover you for the same condition, especially if it requires long term, expensive treatment.
What else isn't covered by pet insurance for pre-existing conditions?
Pet insurers won't cover previous medical conditions, but what else is excluded from most pet insurance policies?
Vaccinations
Microchips
Flea treatment
Neutering
Grooming
Cosmetic procedures
An injury or illness that happens during the initial waiting period
If budgeting for these expenses is becoming difficult, speak to your vet about a pet health plan to spread the costs throughout the year.
Not sure whether cat insurance is really worth it? Older cats are prone to more illness and injuries, and finding pet insurance that covers pre-existing conditions is difficult. Veterinary treatment for chronic conditions can cost a lot over your cat's lifetime, so it's well worth finding cover to protect your four-legged family member.
Once you have a pet insurance policy, understanding what health conditions your senior mog is prone to is all part of being its responsible pet parent, so you can get it to the vet as soon as you spot the signs.
Here are some of the most common medical issues senior cats face.
Kidney disease
Older felines are prone to kidney disease, which can be caused by infections, exposure to toxins, other diseases and even a malfunction of their immune system. The kidneys slowly get damaged over time, leading to eventual kidney failure. Sometimes, the progression is so slow that the original cause is no longer present and never gets discovered.
As the process is slow, kidney disease is classed as chronic and is seen as a pre-existing condition by any new pet insurance policy.
Watch your pet for:
Increased thirst
Weight loss
Poor appetite
Smelly breath
Vomiting
Weakness
There's no cure for the illness, but vets can minimise your cat's symptoms and help you manage their condition at home.
High blood pressure
Kidney disease often causes this condition by producing chemicals that then contract your cat's blood vessels and lead to high pressure. Treatment includes medication to relax blood vessels and possibly a low-salt diet. You'll need to make regular visits to the vet for ongoing care.
Finding pet insurance that covers pre-existing conditions like this can be challenging, so it's best to insure your pet while it's still healthy.
Hyperthyroidism
When your cat has too much of the thyroid hormone, it speeds up its metabolism. You'll notice your cat eating more than usual but still staying slim or even losing weight. Depending on the severity of your pet's condition, treatment could be tablets or surgery.
During surgery, your vet will remove one or both thyroids, which could provide a cure. If your cat is symptom free after treatment and you don't need to see the vet for an extended period, it may no longer be seen as a pre-existing condition.
Diabetes mellitus
Diabetes causes an increase in blood sugar level and is particularly prevalent in overweight and less active senior cats. You might spot:
Increased thirst
Urinating more
Excessive appetite
Unexpected weight loss
Most diagnosed felines will need insulin injections for the rest of their life.
Arthritis
This chronic condition is just as common in cats as it is in humans. Sadly, the usual symptoms are often mistaken as 'part of ageing' and go undetected for a long time. Keep an eye on your elderly pet for:
Sleeping more
Becoming less active
Not being able to access elevated surfaces
Other signs of pain
If your vet diagnoses your cat with arthritis, they'll need ongoing therapy treatments and medication to manage inflammation and pain. If you're hoping to change pet insurance, this will come under pre-existing conditions.
Dental disease
This condition is common in cats of all ages and can lead to other serious illnesses when undiagnosed. You'll notice smelly breath, red and sore gums and your feline friend not eating like it used to due to pain.
Keep it at bay with regular brushing and dental care. Pet insurance from Petwise includes dental cover as standard to protect your cat's teeth and gums through every stage of its life.
Why choose Petwise senior cat insurance?
However young or old, all cats get into scrapes, and the older they get, the more likely they are to develop age-related conditions and become more susceptible to illnesses.
A specialist pet insurance provider like us can provide the support you need to help with those unforeseen accidents and diseases and help your ageing cat enjoy a better quality of life throughout its golden years.
Why do pet owners choose Petwise?
24-hour vet video calls
No co-payment excess
No age limit for joining (as long as pet over 7 years)
Dental cover as standard*
Senior food contribution
Direct payments to your vet
Farewell cover
Bereavement helpline
So, why wait any longer to protect your senior mog with the lifetime cover it deserves? Contact Petwise today.
Get a pet insurance quote today
We understand that finding cover for your elderly cat is a top priority, so have made getting a quote quick and simple. Fill out our online form or call us on 0333 003 2271 to speak about our policies in more detail.
Our friendly team will tell you everything you need to protect your cat and answer any questions you have regarding our cat insurance cover. They'll be happy to talk about your pet's pre-existing conditions and give you a quote in minutes.
To insure your cat with a pet insurance policy from the specialists, speak to Petwise today.
Frequently asked questions
What's the difference between chronic and hereditary conditions?
A chronic disease is a health issue that requires ongoing medication and treatment. A hereditary problem is one that's common in your cat's family history and means it's more likely to suffer from it. Hereditary conditions can be chronic.
Can I insure my 15 year old cat?
Whether your cat has pre-existing conditions or not, there's no upper age limit to our pet insurance policies. We believe every animal deserves the best protection throughout their golden years, so offer cover for even the most senior mog on the block.
Will my pet insurance know about pre-existing conditions?
Pet insurance companies might not know about your pet's conditions when you take out a policy, but you must be honest and upfront.
If you ever need to make a claim and your pet insurer realises it's linked to a pre-existing condition, you'll be left to pay the vet bills.
When you file a claim, your insurance provider will ask for your pet's medical history, which will soon reveal any pre-existing conditions you failed to disclose.
If your feline friend becomes ill during the initial waiting period of your existing pet insurance policy, you won't be able to make a claim. The health issue will also likely be classed as a pre-existing condition and not included on your policy after, so you'll need to pay for treatment of your pet's medical issue yourself.
It is important to mention that if you switch to Petwise from another provider with no gap in cover, you will not have sit the waiting periods.
Pet insurers each have their own definition of what is and isn't included in the waiting period, and it can vary depending on various factors. Read the policy wording and speak to the provider if you're unsure.
Are there any alternatives to pet insurance for pre-existing conditions?
Pet insurance is always worth it, regardless of whether your cat has pre-existing conditions or not. However, if your pet's pre-existing condition isn't covered by your policy and you're struggling to pay for treatment, you might be able to get help.
Veterinary charities, like Blue Cross and RSPCA, might be able to provide financial assistance or healthcare depending on your circumstances and where you live.
Does my pet legally need insurance?
Pet insurance isn't a legal requirement in the UK, but it's highly recommended. Whether your cat has a pre-existing condition or not, you never know when it will get into an accident or develop another illness.
Pet insurance companies provide cover for treatment so you can focus on getting your cat back to good health without the worry of unexpected vet bills.
There's no one-price-fits-all option when it comes to pet insurance quotes. Every cat is different, so we take various factors into consideration when calculating your premiums:
The type of policy you need
Your cat's age
Whether it's neutered
Where you live
At Petwise, we want to help you find the right cover for your senior cat. Get in touch with our team of specialists today. 
Pet news & advice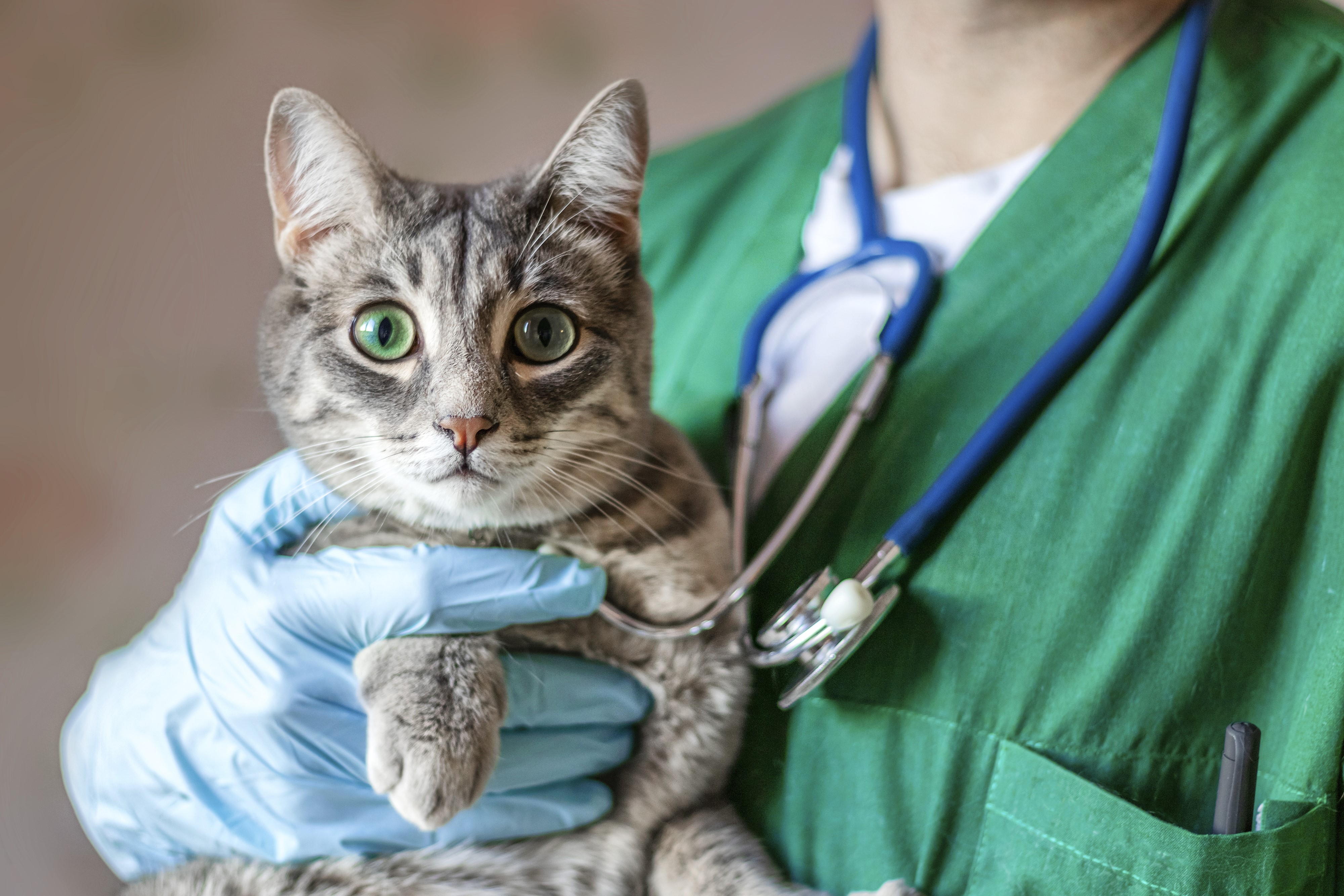 28/09/23
Feline calcivirus (FCV) is the most common upper respiratory tract pathogen in pet cats in the UK, researchers have found. FCV, along with feline herpesvirus (FHV) and Chlamydia felis (C. felis), are highly contagious, common oral infectious agents and the main cause of upper respiratory tract disease in cats.