Is it worth insuring an older dog?
As your dog advances towards old age, you may face some tricky decisions around pet insurance.
Thankfully, here at Petwise we have a range of insurance options for older dogs, which can be tailored to suit both your budget and your dog's health outlook.  
A general consensus is that, once pets reach old age, arranging insurance for them does get trickier and more expensive.
Conversely, though, insurance may become all the more important for them in older age, as they become more susceptible to a range of illnesses and age-related conditions.
Your insurance policy, depending on what level you opt for, may be able to help with the treatment costs here.
However, exactly when this old age begins can vary widely from one animal to the next.
Suffice to say, though, that a dog is deemed to have reached old age at approximately eight years old.
That's a similar age for cats, but somewhat different for, say, rabbits or horses, who – for insurance purposes – are reckoned to reach old age at five and 15 respectively.
Why does the age of a pet matter, in insurance terms?
Why should it be that your dog's age has an impact on the type – and cost – of insurance available to them? Well, essentially, any household pet becomes more susceptible to illnesses, and more likely to require medical treatment, as it gets older.
This, of course, takes its toll on the amount you are likely to spend on insurance for an older dog – indeed, on insurance for any older pet. 
The fact is that the insurance landscape changes when your dog, or other pet, reaches old age. Some insurance providers may decline altogether to provide insurance for older dogs.
This is because they believe that the costs that may have to be paid out for treatment, as a dog ages, are likely to exceed the insurance premiums they charge.
Even where an insurance provider does provide insurance for an older dog or pet, however, it may be costlier than the equivalent level of insurance cover for a younger animal. 
You may also find that the extent of cover offered by your insurance provider becomes more limited, as your dog or other pet enters old age.
For instance, a typical pet insurance policy may cover the purchase price of your pet, in the event of the latter's premature death – whether from an accident or an illness.
However, this may change once your dog is classed as 'older'. Many insurance policies won't provide financial cover for the death, by illness, of a senior dog or other pet.
What types of pet insurance are available for my older dog? 
You'll probably find that insurance for an older dog, where it is offered at all, is available in four main types. 
Lifetime pet insurance
This is, typically, the costliest form of pet insurance policy. However, it also offers the most generous cover.
If you choose lifetime insurance for your dog you will receive continuous cover, up to an annual limit for each medical condition.
Better still, this cover refreshes every time your policy comes up for its annual policy renewal.
So, if you claimed a large amount of cover for treatment of a certain illness during one policy year, and are approaching your policy limit for that particular condition, don't worry: the cover for that condition will reset to zero at renewal time, and your older dog will once again be eligible for the full amount of cover for the next year.
Good to know: Any pre-existing conditions – illnesses or problems that have already been diagnosed in your older dog, before the policy starts – will not be covered in a lifetime policy.
This means that it's always a smart idea to begin your lifetime insurance policy while your pet is still young, and before they have developed any medical conditions.
You can then renew the policy with your insurance provider every year, safe in the knowledge that any conditions that your dog develops along the way will now be covered by your insurance. 
Maximum benefit pet insurance
The next most expensive type of policy after lifetime insurance, so-called 'maximum benefit' insurance, provides cover, up to a specified limit, for each illness or injury while you remain with the same insurance provider. 
The difference between this and a lifetime insurance policy, as above, is that this policy type is not renewed on an annual basis.
Instead, it is simply a lump sum for the duration of your pet's lifetime. Once you reach the claim limit for any given illness or condition, any further expenses for that condition will have to be met by you.
A maximum benefit insurance policy can be a good compromise between lifetime pet insurance (comprehensive, but more expensive) and our next policy type, time-limited insurance – which is cheaper, but which provides less cover. 
Good to know: Much like lifetime insurance above, this type of insurance does not provide cover for any pre-existing conditions.
Other types of pet insurance cover
There are a couple of other forms of pet insurance cover to tell you about. These are:
Time-limited pet insurance
The next type of policy in our list, time-limited insurance, will cover against accident or illness for a set time period.
A typical period covered by this type of insurance might be one year. There will also be a claim limit for each condition. 
Let's look into how this particular type of insurance policy works.
You might take out a time-limited pet insurance policy, and yet enjoy several months with your pet needing no treatment.
Say, though, that seven months into the policy, you needed to make a claim for treatment against an accident or illness.
No problem: you would still be covered for the final five months of that policy year. Then – always assuming you decide to renew the policy with the same insurance provider – you would be covered for a further seven months of the next year – the time period during which you made no claims previously.
Good to know: This particular form of pet insurance policy may sometimes feature a combined payout limit across all conditions.
This would mean that, once you'd reached this limit from a variety of claims (illnesses, accidents, etcetera), cover would stop until you next renewed the insurance policy.
You should also be aware that a time-limited insurance policy probably won't be the best fit for older pets with ongoing health conditions, as any claims limit may quickly be reached and the insurance provider will stop paying out. 
Accident-only pet insurance
The cheapest and most basic form of insurance for a dog, cat or any other pet, accident-only insurance may be one to consider if you're on a tight budget.
An accident-only insurance policy will, effectively, only cover expenses such as vets' fees in the event of an accident to your pet. 
But that's all the cover that this type of insurance policy will provide. Policyholders will not enjoy cover against illnesses. .
They may not have access to the other benefits that more comprehensive insurance policies can include, either. We'll look at some of the benefits of insurance with Petwise a little further down. 
Good to know: An accident-only pet insurance policy will include a maximum claim for each accidental injury, across each year in which the insurance policy is taken out.
On top of this, however, some accident-only insurance policies may introduce a lifetime cap per accident – so, for example, if your dog is injured and needs ongoing treatment, you may find that – even though you never need to exceed each annual claim limit – you do eventually exceed the lifetime cap. 
Other accident-only insurance policies may insist that all treatment is carried out within a certain time frame – say, 12 months – after the accident. Imagine, for example, that your dog suffers ongoing discomfort from an accident.
After that first year of treatment you, not your insurance provider, may have to bear the costs of further treatment – whether surgery, physiotherapy or other. 
In general, we would say that this type of insurance is better suited to young, healthy pets than to older animals.
Other useful things to know about older pet insurance cover 
Exactly what is included in your cover will vary from one insurance policy to the next.
However, a few of the features that you'll find across many insurance policies include: 
- Cover for cancelling or shortening a holiday, due to your pet's illness
- Contributions towards advertising and a reward, if your pet is lost or stolen
- Contributions towards pet boarding fees, if you have to be away from home for a hospital stay
Elsewhere, you may find that some insurance providers will only allow you to begin a new policy with them if your dog is under eight years old.
This maximum age may even be lower for certain breeds that are deemed to age faster. You'll also find that this age depends on what pet you are looking to arrange insurance for.
Your insurance provider may be able to provide cover to dogs above this age – but it may be given a different name, such as older pet insurance or senior pet insurance.
You will probably find that the cost of insurance rises as your dog grows older.
Something else that may rise is the 'excess' – the amount that you are expected to contribute towards any claim.
Some insurance providers may even ask you, once your pet passes a certain age, to contribute a percentage towards the cost of any claim, even over and above your excess.
Benefits of taking out insurance with Petwise
Here at Petwise, we specialise in arranging insurance for your older pet – be that cat, dog, or both. Some of the benefits of taking out insurance with us include:
Conclusion: Is it worth insuring an older dog?
There are a great many situations in which older dog insurance will be beneficial. What's more, if you sign up for pet insurance when your dog is still young and healthy, it will probably be worth your while to renew the insurance policy each year as your dog grows older. 
This may become more expensive as your dog ages, but it will guarantee ongoing cover for them – even for longer-term conditions needing ongoing treatment.
An alternative course of action, once your dog enters old age, may be to arrange some so-called 'accident-only' insurance.
This will be significantly cheaper – but, as its name suggests, it won't cover you against illnesses.
If you choose to go down this route, you may need to make some of your own savings to put towards the treatment of any future illnesses.
Finally, it is worth remembering that the costs for veterinary treatment can vary significantly.
This can depend on the breed of dog, the type of illness or injury being treated, and even the part of the country in which you're based.
We'd recommend shopping around for a variety of pet insurance quotes before you commit to a particular insurance policy.
You should also familiarise yourself with the particular health conditions to which your own dog may be particularly susceptible, as some breeds are much more prone than others to certain conditions.
Read our article on understanding how dogs age - a useful resource in helping your plan for your dog's later life.
Why not visit our website to find out more about the range of pet insurance options we can offer? Get a quote for pet insurance today.
Why choose Petwise senior dog insurance?
Regardless of age, all dogs get into scrapes and, like us humans, an ageing dog can develop age related illnesses and become more susceptible to disease.
A carefully selected insurance policy, which can help cover these eventualities, can be a welcome safety net for those unforeseen accidents and illnesses and can help provide a great quality of life without compromise for your dog, as they age.
Some of our benefits include:
Do you have an upper age limit?
The exceptional care we give our animals these days' means that they are living longer which is why it's even more important to consider insuring your pet right through to their golden years.
"A dog is for life, not just for Christmas"
Petwise believes owning a dog is a lifelong responsibility, which is why there is no upper age limit on any of our policies! So whether your dog is seven or 17, we'll keep your partnership covered the whole way.
If you took your policy out before 7th April 2021 your cover and the policy benefits and exclusions will differ from those displayed above. Please CLICK HERE to access your policy documents.  
Pet news & advice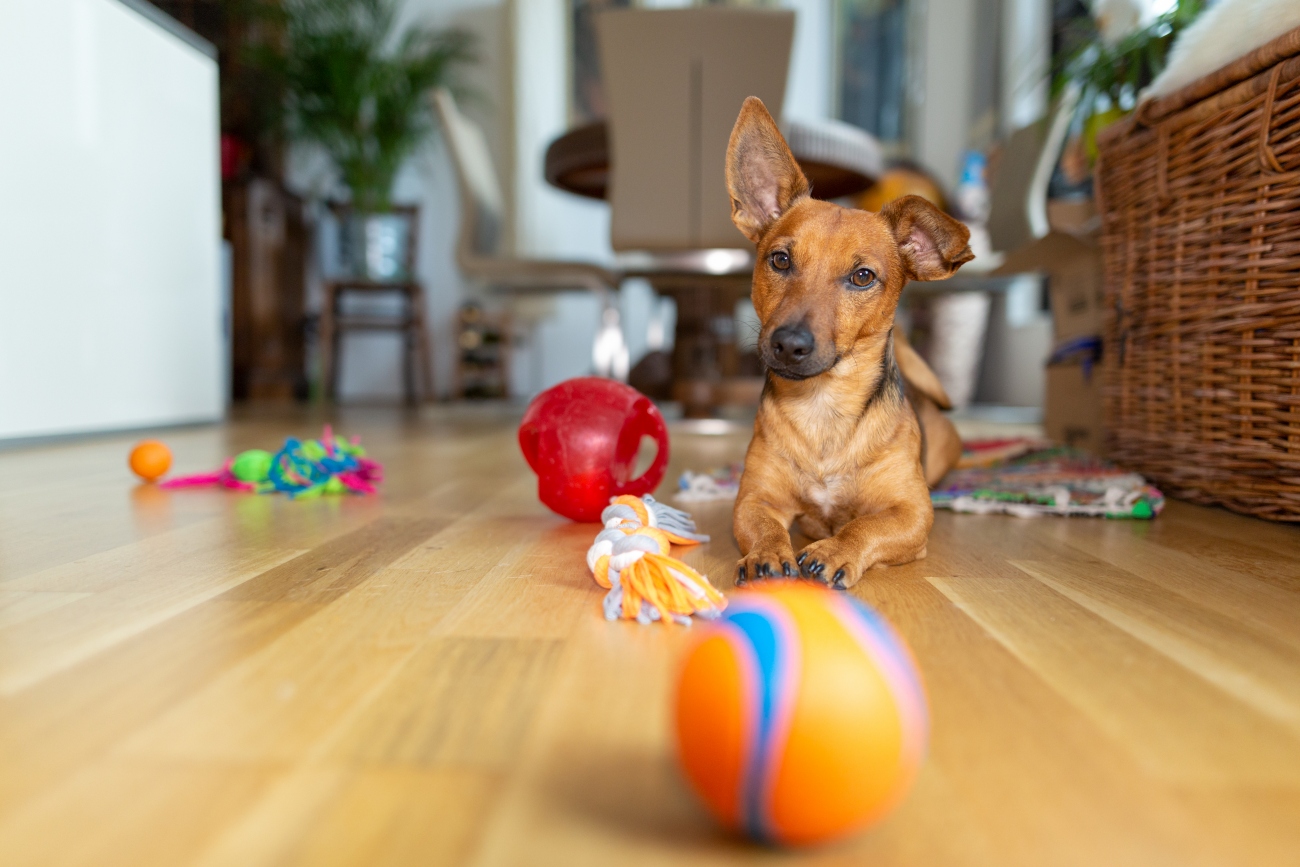 20/11/23
As your beloved dog reaches their golden years, keeping their mind sharp becomes more important than ever. Cognitive stimulation can not only enrich your senior dog's life but also slow down the natural cognitive decline that comes with ageing. This comprehensive guide will walk you through different strategies on how to mentally stimulate a senior dog.